Phillip Bayard Crosby was born on June 18, 1926 in Wheeling, West Virginia. Although he earned a degree in podiatry, he turned his attention to business management. Crosby was a proponent of "quality"in business. He emphasized doing things right the first time to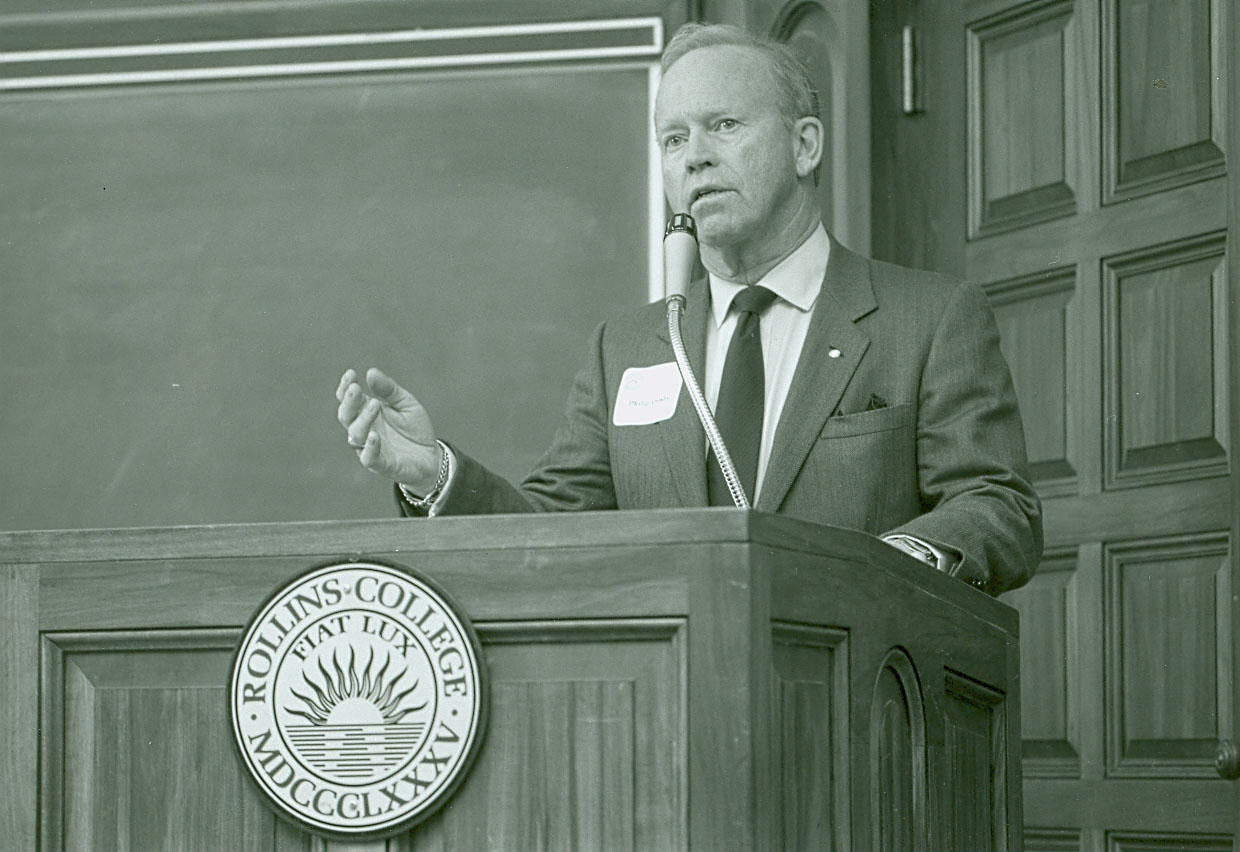 avoid spending time and money to recover from mistakes. He developed his quality philosophy of management at Martin Marietta in the 1960s. In the 1970s he continued to refine and perfect his philosophy as he worked as vice president in charge of quality at ITT Corporation.[1] Philip Crosby became a guru of quality management and in 1979 he founded Philip Crosby Associates Incorporated (PCA). That same year, he wrote his most famous book Quality is Free, which spawned a quality management movement in the United States. With PCA, Crosby managed speaking tours, personal appearances and his book deals. In 1989 he merged PCA with Proudfoot PLC, a British quality management company. After officially retired from PCA in 1990, he continued working privately as a speaker and consultant until his death. By that time, he had written over fourteen books.
Crosby's involvement with Rollins College began with his children's decision to attend the College. His daughter, Phylis Crosby graduated with a B.A. in 1980 while his son Phillip Jr. graduated from the Crummer Graduate School of business in 1984.[2] In 1986 Rollins awarded Crosby with an honorary Degree of Doctor of Laws. After serving on the Crummer School's Board of Overseers, he was invited to join the Rollins College Board of Trustees in 1992. Crosby believed that a liberal arts education had a huge impact on personal worldview. He explained, "Business is part of the liberal arts, because management is all about communication."[3] Crosby believed that a well rounded education from a liberal arts institution developed communication skills effectively. Phillip Crosby died on August 19, 2001 in Asheville, North Carolina.[4]