William Sterling Jenkins was born in Preston, Georgia in 1910. He waited on table and sold magazines to pay for his tuition at the University of Florida.[1] Jenkins graduated with a Bachelor in Fine Arts in 1934. He traveled to Italy where he studied and graduated from the Royal Academy of Art in Florence in 1937. Afterwards, he traveled throughout Europe and Mexico painting the different people and places he visited.[2] He founded his own art school in Columbus, Georgia in 1938. His work was featured in a one-man exhibit in New York City in 1941.
Jenkins Married Alice Moberg in 1942. Jenkins served in the U.S. Army during World War II from 1942 through 1944. After serving in the war, William and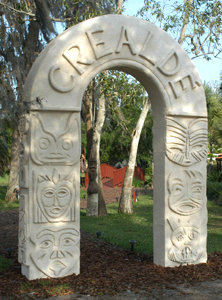 his wife moved to Winter Park, Florida where they established the Jenkins Construction Company. They dedicated themselves to building affordable homes in Central Florida. Jenkins became a successful businessman and was involved in the community. Jenkins served one year as Winter Park commissioner in 1953, co-founded the Orange County Council on Aging in 1966, served as president of the Sons of the American Legion Post 112 and was President of the Home Builders Association. Jenkins also set up an endowment at the University of Central Florida. His contributions allow UCF students to present visual art in community centers and schools. His endowment also helped establish a Chair in Community Arts. He received an Honorary Doctorate in Humanities from the University of Central Florida.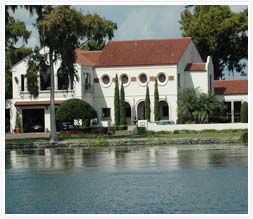 Jenkins created the Crealde School of Art in Winter Park in 1975 and donated the school to the community in 1980, the same year he retired from his home building business. Jenkins stated that Crealde stands for "Center for Creative Living."[3] Today, the center is a non-for-profit community arts center that presents the public with free exhibits and lectures from noted artists from across the U.S.[4] The center also offers affordable art lessons in photography, sculpture, painting, ceramics, and drawing. The center features a professional dark room, ceramics studio, foundry, a sculpture garden and two galleries.[5]
Jenkins' wife died in 1988. William died on March 30, 1996. He is survived by daughter Ann Jenkins Clement and his son William Griffith.
Courtesy of the City of Winter Park
- Kerem K. Rivera
---