Gus C. Henderson (1862-1917) has been described as "ambitious and aspiring… proud of the prominence he has attained."[1] The latter describes the manner in which Henderson led his life and conducted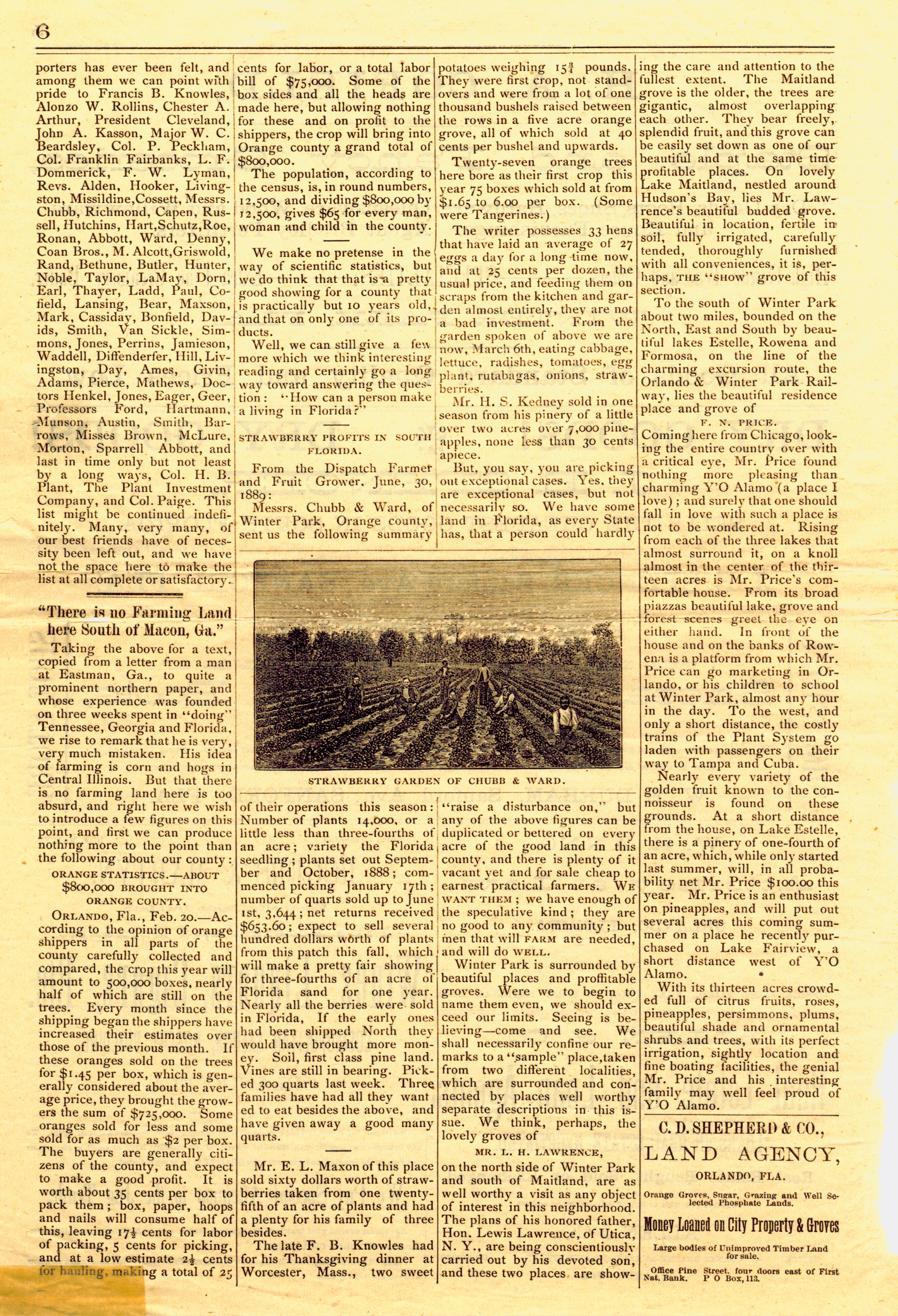 business.

Henderson was born on November 16, 1862, in Columbia County, located near Lake City, Florida. Henderson's mother died when he was ten years old. As a result, he was left to fend for himself. He worked for low wages in an attempt to take care of himself.[2] He was a curious young man and had a great desire to learn. He studied by himself and remained in the Colombia County area until he reached the age of twenty. He tried his hand at being a farmer but decided to leave it behind to become a traveling salesman. Although he had some success as a salesman, he soon received a letter asking him to resign from the New York firm he had been working for for five months.[3] When asked for an explanation, the firm stated that they had received threats from white salesmen for hiring an African American. Gus felt disheartened by this news.[4]

In 1886 he moved to the area that would later become Hannibal Square. Henderson decided to initiate a general printing and publishing company. In 1887 he encouraged the African American residents of Hannibal Square to support Loring Chase and Oliver Chapman, who advocated for the incorporation of Winter Park and Hannibal Square as one city. His efforts made the latter possible. Chapman and Chase showed gratitude towards their supporters by selling lots, renting land and providing employment to the African American community.[5] This helped secure many votes. Henderson also encouraged his community to vote for the first African American aldermen of Winter Park, Walter B. Simpson and Frank R. Israel.

On May 31, 1889, Henderson released the first issue of The Winter Park Advocate. This newspaper was one of two black-owned newspapers in Florida and the only newspaper in Winter Park read by both white and black residents. It remained in publication for approximately twelve years. Henderson later moved to Orlando, where he published the Florida Christian Recorder.

Throughout his life, Gus Henderson advocated for voting rights and better education for African Americans, until his death in 1917. He faced many battles and obstacles, but his persistence allowed him to positively impact the Winter Park community at a time when the country, especially the South, was plagued by intense racial divisions.



Barbara White, "Gus C. Henderson: Hard working and determined – He brought the news to Winter Park." Winter Park Public Library. http://archive.wppl.org/wphistory/ghenderson.html


Ibid.


Ibid.


Ibid.


Ibid.


"Portrait of Gus Henderson," from the Winter Park Advocate, courtesy of the Winter Park Public Library, Winter Park, Florida.


"Picture of Winter Park Advocate," Photograph. Advocate file, From Archives and Special Collections, Olin Library, Rollins College, Winter Park, Florida.


"An African American Congregation in the 1890s," showing a man holding a copy of The Winter Park Advocate, courtesy of the Orange County Regional History Center, http://www.thehistorycenter.org/.