Article as it originally appeared in the Rollins Magazine, (Spring 2006), 16-20.
WE SPEAK OFTEN OF "COMMUNITY" at Rollins College-a place where students, faculty, and staff know each other; a place where the ideal of a coherent community has a powerful impact on campus life. But community doesn't just happen; it must be initiated and sustained each day by individuals through practical activities.
For more than 30 years, a prime nurturer of Rollins' community spirit was A. Arnold Wettstein '06H, professor emeritus of religion and dean emeritus of the Knowles Memorial Chapel. "The Dean" departed this world on May 30, 2008, after 80 vibrant years, yet his wisdom, compassion, and humor remain a permanent and humane influence in the hearts of generations of Rollins students and colleagues.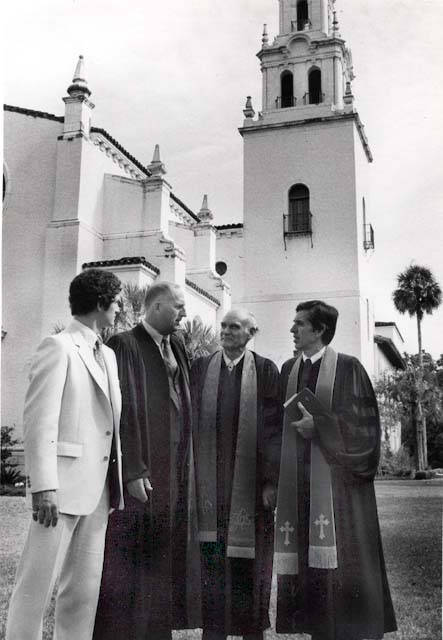 At a College memorial service for Dean Wettstein in September, hundreds of his admirers filled the Chapel where he presided for more than two decades. "In listening to our alumni, I am struck by the wonderful stories about Arnold. Everyone had a story to tell. And he was the best storyteller I ever knew," said former Rollins president Thaddeus Seymour '82HAL '90H. Thad finished his own series of stories about Dean Wettstein by quoting the inscription embedded in the wood of the Chapel pulpit, dedicated to Rollins' second president, George Morgan Ward, but equally applicable to Wettstein: "A man greatly loved, of rare personality and ability, consecrated to the service of God, who gave himself to the needs of others with unselfish devotion."
Although many knew Wettstein, his personality was so rich and varied that most knew only parts of him. Probably few outside the family knew his first name was Adelbert, after his German-American father. His college buddies called him "Biff," a name most would have trouble associating with such a brilliant and distinguished man. As an undergraduate at Princeton University, he studied medicine until deciding that society's most critical ills were "spiritual rather than physical." Few knew that he once served as a chaplain in the Navy, although many shared his love of sailing. No one would be surprised that he was awarded Rollins' coveted Arthur Vining Davis Fellowship for outstanding teaching, but not many knew he was the first to receive it, in 1971.
Wettstein's biography is impressive. After earning an AB from Princeton in 1948, he began his education in the ministry at Princeton Theological Seminary and went on to receive a bachelor of divinity degree from Union Theological Seminary, studying under two of the greatest Protestant theologians of the 20th century, Paul Tillich and Reinhold Niebuhr. On June 19,1951, he was ordained into the ministry at The Reformed Church of Hoboken, New Jersey, where his father served as minister.
Soon after, he began graduate studies at Columbia University in New York, but left to serve as an interim pastor at the First Presbyterian Church in Cooperstown, New York, where he met his future wife, Marguerite. He then entered military service, serving as a Navy chaplain from 1950 to 1954. He returned to civilian ministry, eventually becoming ordained in the United Church of Christ.
Wettstein resumed his graduate studies at McGill University, receiving his Ph.D. in philosophy and religion in 1968. He Joined the Rollins community as assistant professor of religion and assistant dean of the Chapel. In 1973, he was appointed dean, a position he held until 1992. Upon his retirement as a professor in 1998, he continued to teach at Rollins and minister to others' needs. In 2006, the College awarded him an honorary doctorate for his long and faithful service.
Wettstein was an influential religious leader. He served as president of the National Association of College and University Chaplains, was an active member of the North American Paul Tillich Society of Theologians and the First Congregational Church of Winter Park, and served as chaplain of the Ethics Committee of the Mayflower Retirement Center in Winter Park, where he spent his final days. He often attended services at the Congregational Church and sometimes filled in as minister. As his good friend and former Congregational Church minister Rev. James Armstrong said at Wettstein's memorial service, "When he attended, was always aware of his presence. I chose my words carefully, and he listened thoughtfully. I wanted to pass that intellectual litmus test." High praise indeed from someone known for his powerful sermons and who once served as head of the National Council of Churches.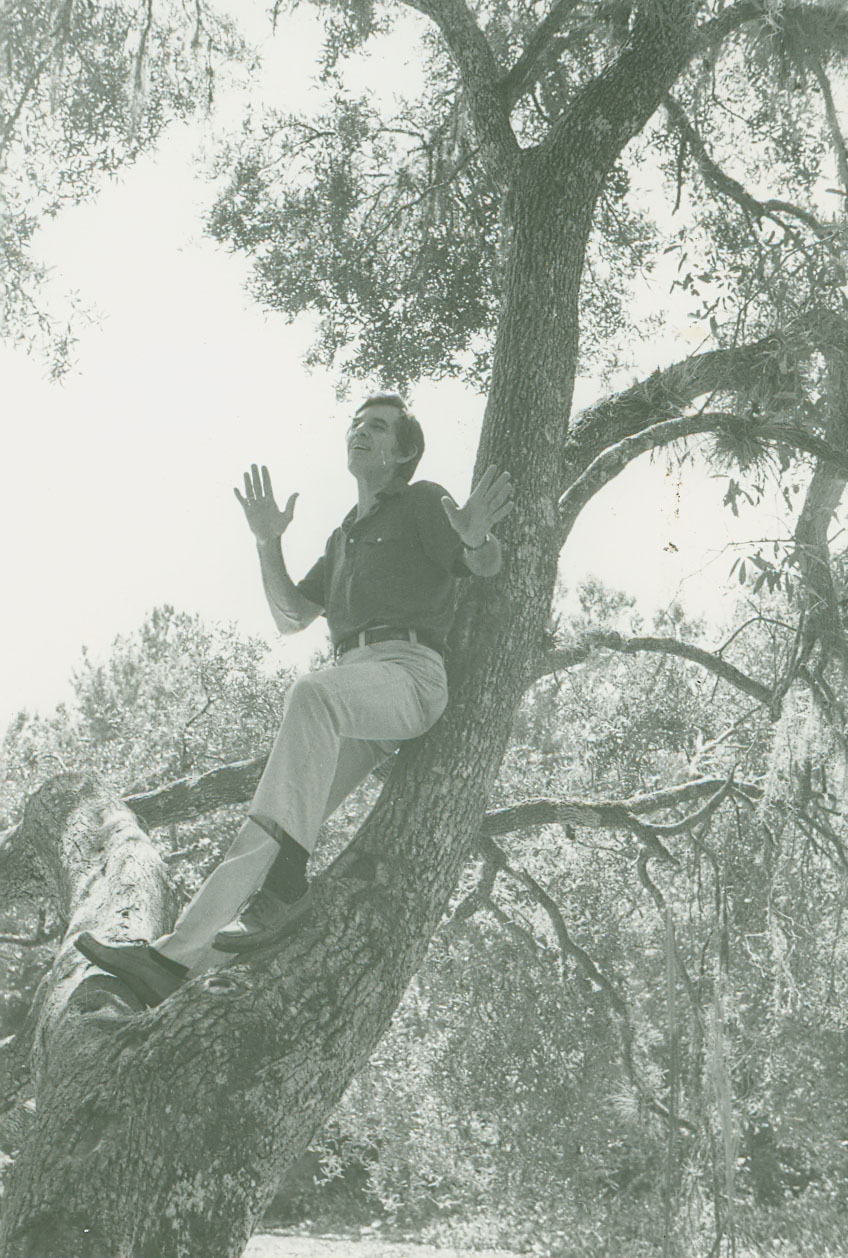 But the true measure of the man was the love, affection, and respect Wettstein inspired in others, from his fellow faculty to the many students who sought to emulate him. Everyone remembers that warm, baritone voice of his, as perfectly suited to the utterance of great thoughts as to the punch lines of his jokes. For many, he will be most remembered for the inspiring sermons that lifted the spirits and
challenged the souls of the church communities he served. Brian Crowley '90, who first met the dean as a student in his religion class, said, "His were the best and most meaningful sermons I'd ever witnessed. It has been almost 20 years, and no one has come close to weaving substance and relevance into a homily as he could."
Wettstein taught courses on world religions, contemporary religious thought, and alternative religions in America. "I took several classes with Arnold, including a course on cults and alternative religions in which we formed our own cult at the end of the semester-The Wettsteinians-much to his surprise!" said Ginny Cawley-Berland '81. "I will always remember his infectious excitement about everything he taught and everything he did on campus, and his smile-beatific with a dash of mischief. He opened my eyes and broadened my very narrow view of the world. And he helped me to see that religion and faith are not the same thing, and do not always go hand-in-hand."
Wettstein was ahead of his time in building bridges to representatives of other denominations. Steeped in many world religions, he emphasized their common features and best characteristics. He invited religious leaders of many faiths to campus for worship and "interfaith dialogue." During the apartheid era, he went to South Africa as a guest of Archbishop Desmond Tutu to lecture and give sermons, and Bishop Tutu sent his assistant pastor to speak at Rollins. Wettstein even brought a Zen roshi (master) to campus and sponsored Zen meditation retreats, encouraging others to learn how to apply meditation to their own religious beliefs. "He made me feel uncomfortable at times because of his interest in and knowledge about far Eastern religions," said Beth Hobbs Lannen '79. "At that time, I suppose thought it was `sinful' for a Christian to be delving into other religions. Sounds silly to me now."

Wettstein did not just preach religious ideals; he lived and expressed them in his deeds. His spirit of tolerance, compassion, and respect for diverse views was a guiding force at Rollins. As his former faculty colleague Hoyt Edge said, "He was always a voice of reason and compromise in faculty meetings. Arnold was the conscience of the College."
The Dean had a gift for motivating his students to learn and exciting them about service to society. Although he always placed students and other colleagues in the forefront, he was the driving force behind the finals week pancake breakfasts, the World Hunger Committee, and the concerts on behalf of Oxfam to alleviate hunger in poverty-stricken countries. For years, Rollins' contributions to Oxfam outstripped those of much larger universities. He got students involved in Daily Bread, which feeds Orlando's homeless. For Rick Taylor '81, he embodied a characteristic aphorism of St. Francis of Assisi: "Proclaim the gospel boldly, and if necessary, use words."
Wettstein initiated service-learning courses in Jamaica, Guatemala, Uganda, and Ghana, and helped to initiate projects for Habitat for Humanity International-activities which have become a centerpiece of Rollins education today. He once told an interviewer, "Well, what inspired me was ... I felt I couldn't really teach ethics in an affluent society very well without having a confrontation with the problems as they really are. You just can't come to any significant ethical conclusions when you're sitting in your chaise lounge or driving your convertible to the beach."
Though his dignity and wisdom made him a figure of reverence, Wettstein was also "cool" in an endearing way to young people. He accepted students' non-academic aspirations and interests and nurtured them intuitively. "As intelligent as Arnold Wettstein was, I will always remember him for his ability to suspend the social mores of what a dean of the Chapel `should' be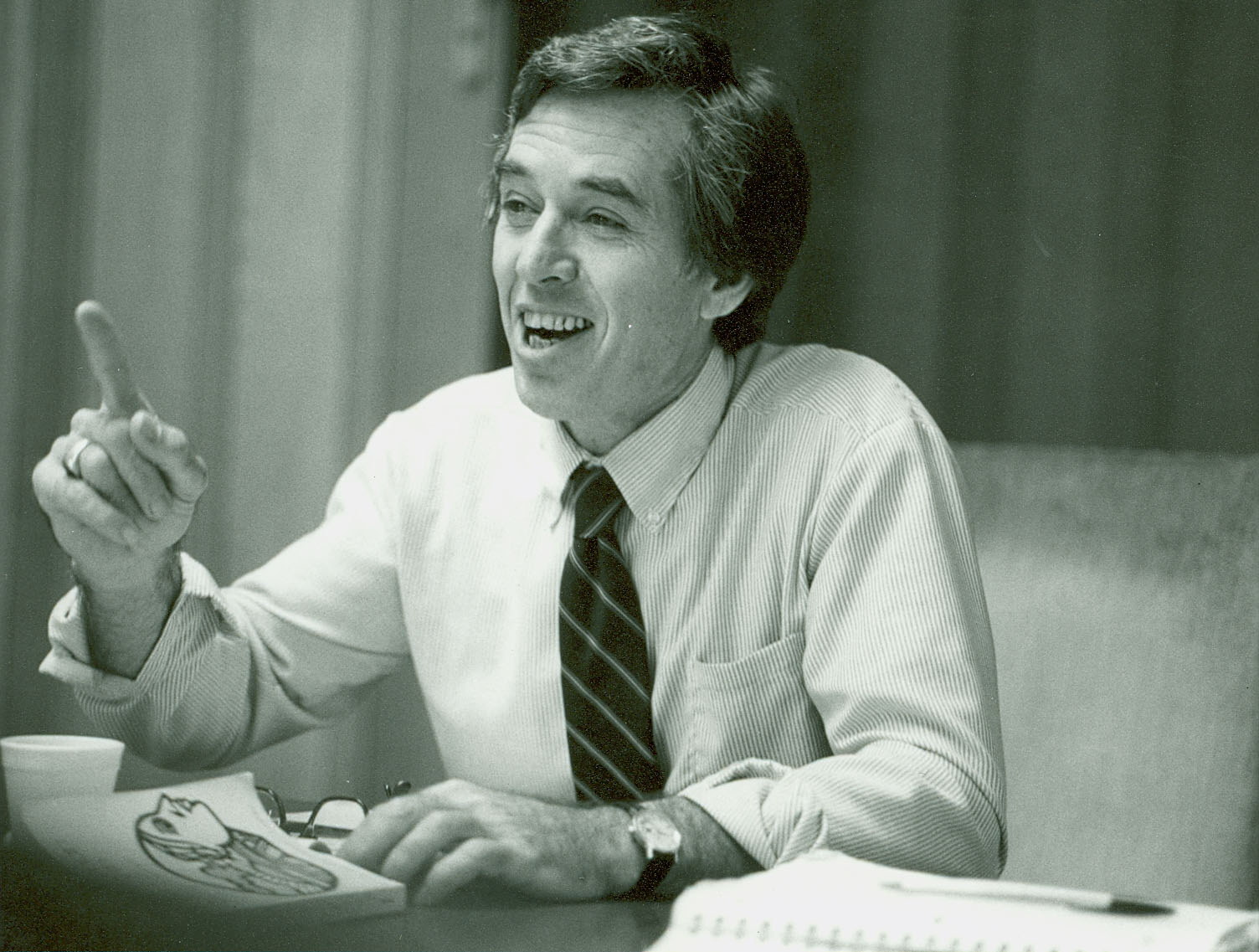 like and `ought' to do, and make decisions that were instead inspired by love," said Woody Nash '90. "He knew that as architecturally impressive and sacred as the Knowles Memorial Chapel is, it was spiritually lifeless unless it attracted and served the Rollins community." Perhaps one of the achievements of which Wettstein was most proud was marrying more than 500 Rollins alumni in the Chapel.
Wettstein had a mischievous sense of humor that endeared him to many; he loved the theater, pranks, and witticisms, and took pleasure in life's everyday absurdities. At bottom, however, he was a deeply serious man who spent his life pondering life's greatest mysteries, understanding and finding common ideals among the world's various religions, and working to help his students, his community, and the world at large to find peace and harmony. He took pleasure in people's differences, yet worked to help them see their common humanity. He wanted people to take themselves less seriously, but find serious purpose in their lives.
"Arnold loved life," said John Langfitt '81MS, who served as Wettstein's assistant dean and coordinator of the Sullivan House campus ministry. "He enjoyed adventure as well as theological and intellectual discussion. He was a peacemaker and on the cutting edge of the important ethical issues of the day. He broadened Christianity into a world perspective. He laughed and loved and worshiped and played, but he took us to a higher level of intellectuality and spirituality that made us more excited about God and life."
Not long after Wettstein died, his son Fritz '83 had an experience that embodies the influence the dean had on so many people. "It's hard listening to the readings at church and not thinking about how Dad would interpret them," Fritz said. "I was at a service where the minister read Matthew 10:39. `Jesus said: Those who find their life will lose it, and those who lose their life for my sake will find it.' He explained that these words were recalled and written down at a time when an early Christian's risk of death and possibilities at martyrdom were very real. He went on to give a good lesson on bearing the cross for Christ. Still, I sat and wondered, `What would my Dad say?"'
For many Rollins alumni pondering life's mysteries in adulthood, we wonder, what would Dean Wettstein say about that? As he always wanted us to, we must draw our own conclusions, but our spirits are buoyed by the memory of his confidence in us.

- Bobby Davis
For More Information, See the Rollins College Oral History Project