On January 12, 1864 in Liverpool, England, Irish civil engineer Joseph Russell and his wife, Jane Mount Russell, welcomed their daughter, Annie, the first of their three children. Annie passed her early years in a convent in Dublin until 1869, when she and her family moved to Canada. According to Miss Russell, her father passed away sometime after their relocation, causing the family to suffer from destitution. Because of this, Annie's mother decided to put her daughter on the professional stage to help maintain her family's well-being.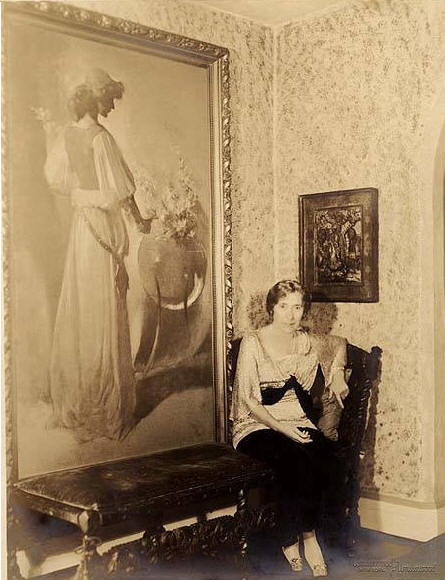 In 1875 while on a tour of the United States and Canada, Rose Eytinge, a national and international star, came to Montreal in search of a young female to play a role in her play Miss Multon at the Montreal Academy of Music. Annie Russell, the only applicant for the role, impressed Eytingealthough not immediately because he proclaimed Russell was too young and the rest of the world with her natural acting ability, and soon after, Haverly Juvenile Production granted her another role in the of H.M.S. Pinafore. According to Gary R. Plank, an authority on Annie Russell, she began a tour of the West Indies and South America in 1880 with the E.A. McDowell Acting Company, and after seven months, returned to New York, where in the fall of 1881, she appeared at the Madison Square Theatre in the play, Esmeralda. In years following, her popularity blossomed and she appeared in several other plays, including, Our Society, Sealed Instructions, Captain Swift, Broken Hearts, and Elaine. In 1884 Annie Russell tied the knot with Eugene W. Presbrey, however the marriage ended in divorce in 1897. During this period both physical and emotional stress afflicted Russell, forcing her to withdraw from the theatre. After four years of absence from the stage, she reappeared playing the lead female role in the play, The New Woman. During 1894-98, she preformed in a number of other plays, including Mice and Men, and Charles Frohman's productions of Sue and Dangerfield, '95, the latter led to her London debut in 1898. In the next decade, while spending most of her time in the United States, she returned to London to perform on three additional occasions: in 1899 she was to act in Catherine but had to return home due to illness; in 1905 when she acted in Major Barbara; and in 1913 when she acted in The Rivals and She Stoops to Conquer. In addition to spending summers at her house on the Maine Coast, she also began to share her time with English actor Oswald Yorke, later marrying him on March 27, 1904. the couple remained in New York, where Russell took the role of Puck in a presentation of Shakespeare's A Midsummer Night's Dream.
Concluding her engagement with the play, Russell continued to perform, produce and direct in the professional theatre until she became afflicted with Influenza, forcing the actress to leave the stage into an early retirement in January 1918. By 1923, Russell sold her New Jersey home, moving to St. Petersburg, Florida, and then later to Winter Park, where she began to feel homesick. One of her close friends, Mary Louise Bok, took notice to Russell and her fascination with the Rollins College Theatre Department. In 1931, as an ingenious gift to her friend, Bok donated $100,000 to the College for the construction of the Annie Russell Theatre. A year later, the theatre was complete, and on the night of March 29th of that year:
"[Mrs.] Russell stepped from behind the thick draperies enshrouding the stage to receive the ovation from some 500 people who had assembled to pay her tribune on this opening night. The applause which ensued was overwhelming. As her eyes slowly scanned the people before her-people who had remembered her after 15 years of absence from the stage, tears sprang to her eyes and streamed down her cheeks. Annie Russell was home."[1]
Almost immediately after the construction of the Theatre, Russell starred in the performance of Robert Browning's play, In the Balcony, which she played opposite Rollo Peters and Mary Hone. Following this production, Russell produced and directed a performance of Romeo and Juliet. After this, Russell founded the Professional Artist's Series, and presented the Thirteenth Chair, the vehicle in which she last performed on the professional stage. During the years that followed, she was taken seriously ill from a case of double pneumonia, which had resulted from an infected tooth. After several months of suffering, on January 16, 1936, Annie Russell quietly passed away in her sleep.
- Alia Alli