On August 14, 1839 in Philadelphia, New York, Reverend Gorham and Sophia Murdock Cross bore Lucy Anne Cross. As the fourth of seven children, she came from an undoubtedly large family, with her genealogy ranging from Sir Robert Cross, knighted by Queen Elizabeth for his bravery and victory over the Spanish Armada, as well as Timothy Jackman, a drummer during the Battle of Bunker Hill. Her father, also a well known figure, was the pastor of the Congregational Church in Richville, New York for forty years. Her father's inspirational work in the community motivated Cross' upbringing to be characterized by sound moral beliefs and strong educational values. During her childhood, she attended the Old School Stone House and later, the New Red School House. Upon completion of her schooling in 1856, she entered Gouvenour Academy, (where her father, mother, and two sisters had studied) and began teaching district school. A year later, she enrolled in Oberlin College, where she later graduated with a degree of Master of Arts in acknowledgement of her post graduate work and interest in botany and mineralogy. Following her graduation in 1868, she taught in New York and then at a high school in Lyons, Iowa. In 1870, she began teaching in the Betsy Stuart Seminary, where she led a group of females on a tour called the "Centennial Excursion", a jaunt taken for the purposes of collecting mineralogical specimens in Chester and Delaware Counties.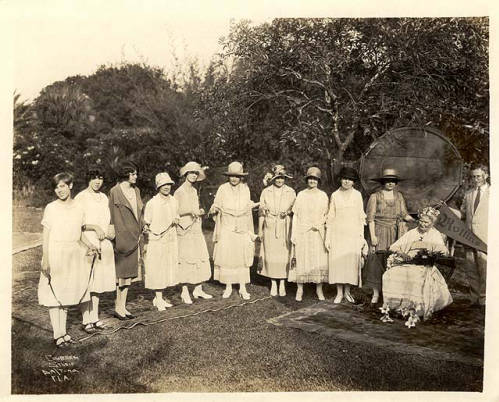 In November 1879, Cross journeyed to Daytona Beach, Florida with hope that the warm climate would alleviate her troubled throat. The next year, she decided to make Daytona Beach her permanent home and opened the Daytona Institute for the sons and daughters of tourists, where she offered an eight-month course to students who did not believe in just four months of public school.
Cross continued to influence the development of higher education, as she foresaw the need for the development of a college. Her pastor, Reverend C.M. Bingham, helped her with such an excursion, and together they presented her case before the Congregational Churches in 1884, stating, "My desire is to found at Daytona a college thorough and complete in its courses of study and illustrate by practice the doctrine of 'The education of the South at the South.' I ask you, gentlemen, to discuss thoroughly the question, 'Shall an effort be made to found a college in Florida'?"[1]
One year later, the Congregational Church answered their question, appointing Cross and Bingham members of the committee to determine the location of the new college. With the help of a generous donation of $50,000 from A.W. Rollins, a business man from Chicago, to whom the institute was later named after, Rollins College became the oldest recognized college in Florida in 1885. Because of her connection and dedication towards the establishment of the institution, the college hailed cross as the "Mother of Rollins College."
In 1893, Cross built LaCross Villa on North Ridgewood Ave and reopened the Daytona Institute, which remained under her guidance until her retirement at age 65. She took part of several other endeavors before this time, including being one of the founders of the Congregational Church at Daytona. She also served as vice president of the Florida Women's Home Missionary Society, president for fourteen years of the local W.C.T.U. of Daytona, and Superintendent of the Department of Unfermented Wine for eleven years. Additionally, she served as a charter member of the Abigail Bartholomew Chapel of the Daughters of the American Revolution, where she held office for several years and wrote a number of historical articles that appeared in the yearbook. After such hard work and notable achievements, the years following her retirement were solely dedicated to leisure time. She spent the duration of her day at church, reading, visiting old friends, and collecting antique china.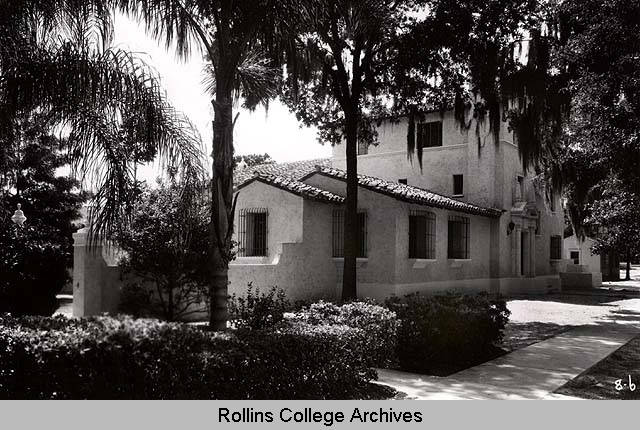 In the fall of 1924, the College imitated a movement to erect a memorial in recognition of Cross' great services to Florida. President Weir of Rollins College secured this endorsement in 1925 and decided to erect a $50,000 hall of science named, "Lucy A. Cross Hall of Science," $5,000 of which Cross pledged.
Just two years later, on May 5, 1927, an automobile struck Cross' car on her way to a meeting of the Daytona D.A.R. Chapter, ejecting her and her companion and causing both of them to suffer fatal internal injuries. "Nothing is really ended until it is forgotten. Whatever is kept in memory still endures, and is real," [2] stated those at the Orlando Chapter, Daughters of the American Revolution in remembrance of Miss. Cross. Indeed the memories of her will forever be remembered by those in the Rollins Community. The Orlando Chapter of the D.A.R. in 1935 placed a stone in the Rollins College Walk of Fame reading:
To honor the memory of LUCY ANNE CROSS (1839-1927), Teacher, Civics Leader, Precursor of Rollins College. In recognition of devoted and effective service through this church in the founding of Rollins College, this tablet was placed here March 24, 1935…on the Semicentennial Anniversary of Florida's oldest institution of higher education."[3]
- Alia Alli