Miss Clara Louise Guild, a Central Florida educator during the early twentieth century, was not only a charter student, but also the first graduate of the Rollins College. Born on June 5, 1864, Clara Guild was a Boston native and daughter of William Augustus and Laura Jane (Barnes) Guild. A Harvard medical school graduate, William Guild was a Boston pharmacist for thirty years. In 1883, he decided for health reasons to retire in Florida. At that time, C. L. Guild had attended a Latin school and a girls' high school in Boston for four years, and she was ready to enter Wellesley. Her sister Alice had just graduated from the Massachusetts Normal Art School and had intended to open an art studio in Boston, but decided to move to Florida with her family. Arriving in Winter Park, they found the city "was nothing but sand and pine trees… The streets were laid out but most of them were only wagon tracks thru the woods."[1] The Guilds quickly befriended Dr. Edward Hooker (1834-1904), a fellow New Englander and the first pastor of the Winter Park Congregational Church, who was instrumental in the founding of the Rollins College and later became the first president of the newly established institution. On November 4, 1885, recommended by Hooker, C. L. Guild entered Rollins as a charter student. Her sister Alice became an art instructor and later head of the Arts Department at Rollins, a position she held for some years until her poor eyesight forced her to retire.
Following the "Yale Model," Rollins in the mid-1880s established a traditional curriculum with stringent requirements in classical studies that was weighted heavily in the ancient languages of Latin and Greek. At that time the state's public school system was so inadequate, few students were able to acquire a sufficient background in those subjects. Therefore most of the sixty-six charter students were enrolled in the preparatory Rollins Academy instead of the College. Since C. L. Guild was not adequately prepared in Greek, she had to spend an extra freshman year taking classical study courses in that subject. The classes she took included Greek Grammar, Greek Prose and Composition, Homer, Oedipus, Demosthenes, Rhetoric, Logic, Mathematics, Calculus, Geometry, Surveying, Physics, Mechanics, Biology, Botany and others.[2] Besides the rigorous liberal arts curriculum, Guild was able to enjoy an active social life on campus that included picnics and boating on Lake Virginia, even though girls were not allowed to go alone and rowing was absolutely prohibited on Sundays. While a Rollins student, she also lived through the yellow fever panic in 1888, when an outbreak occurred in Jacksonville and the state was quarantined, and all letters to the rest of country were thoroughly perforated and fumigated.
Finally in May 1890, she and Miss Ida May Missildine became the school's first senior class, earning a Bachelor of Arts degree. Since their names were listed in alphabetical order, Guild was recognized as the first graduate of the Rollins College. After Francis Fleming (1841-1908), Governor of Florida, delivered Rollins' first commencement speech, Guild read her graduation essay "Elements of Weakness in Our Republic" during the ceremony, in which she proclaimed: "Our fathers who laid the corner-stone of this nation, had noble characters – hence this grand government. To preserve it in beneficence and nobleness, a higher average of intelligence, virtue and patriotism is indispensable."[3]
Upon graduation, Clara Guild began to pursue a teaching career in the Winter Park school system. President Hooker wrote a personal letter of recommendation on her behalf: "Miss Clara L. Guild is a graduate of the classical course of ROLLINS COLLEGE of the class of 1890. She has been teaching the past year in Florida with excellent success. She is a member of the Congregational Church of Winter Park and is a lady of great excellence of character and life. She will be trusted and loved wherever she may be called to work and her influence will always be for the best things. Her appearance is excellent. Edward P. Hooker, President of Rollins College, and Pastor of Congregational Church, July 2nd, 1891."[4]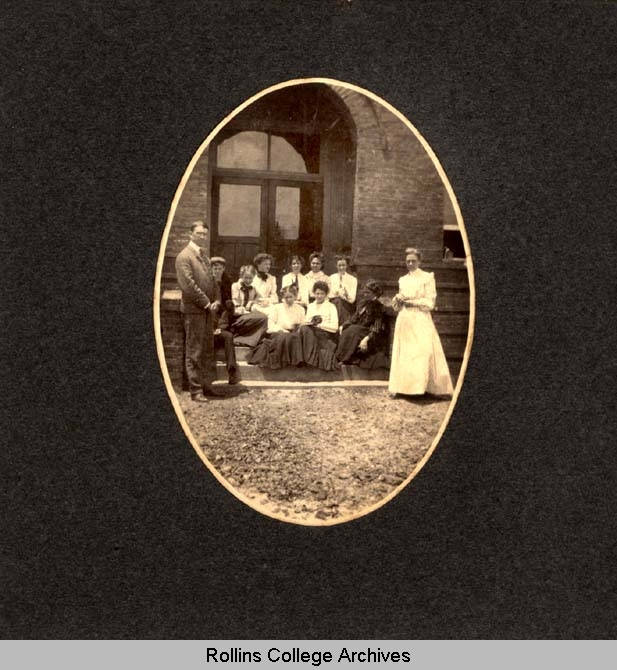 Remaining single all her life and with dedication and hard work, Clara Guild moved steadily forward in her profession. During 1895-96, she became principal of the Winter Park Public School, and from 1896 to 1899, she was an instructor at a grammar school affiliated with the College. On May 23, 1898, Clara Guild received her M.A. degree from Rollins. Her thesis was suitably titled "The Child: the Centre of Education." During the same year, she also founded the Alumni Association of Rollins College, served as first president, and was later awarded life membership of the organization. Entering the twentieth century, Guild had served as principal of the Sanford High School for thirteen years. In a re-appointment letter written by B. F. Whitner on May 15, 1912, the Secretary of Sanford Public School Board commented: "We want you to know that your unselfish, conscientious devotion to the duties of your position are appreciated by the Board and the patrons of the school generally, at their true value. We feel that the result that has been accomplished here, the development and advancement of our schools until they stand at the head of the list in this county, and second to none in the State, is due in large measure to your work and your influence."[5]
After her tenure in Sanford, Guild became a professor of Latin and history at the Cathedral School in Orlando from 1920 to 1931. She later returned to Winter Park School before retiring in 1939 with more than four decades of educational work in Central Florida. Within the local community, Guild was also an active member of the Winter Park Women's Club and the Fortnightly Club. On April 17, 1935, when Rollins celebrated its fiftieth anniversary, Clara Guild became the first alumnae to be awarded the Rollins Decoration of Honor. During the ceremony, Rollins President Hamilton Holt (1872-1951) remarked: "Clara Louise Guild, the greatest asset of any college is a good graduate. As our charter student, first graduate of Rollins and founder of the Rollins Alumni Association, you have set an example of loyalty and service to Rollins as well as to this community, that is an inspiration to all alumni who follow. It is a privilege, indeed, to bestow upon you the first Rollins Decoration of Honor to be given to an alumnus or alumna of Rollins College."[6]
Clara Guild passed away on Tuesday, August 21, 1945 at her Winter Park home, 419 North Interlachen Avenue after struggling with a lingering illness. She was buried in Lowell, Massachusetts following a funeral service at the Carey Hand Funeral Home in Orlando, Florida.
- Wenxian Zhang
---