Genius Reserve Experience
by Frank Gidus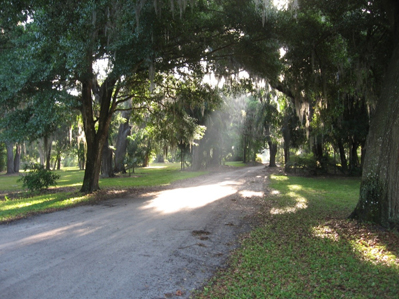 Genius Reserve is fittingly referred to as a remnant of "old Florida." Growing up only a few blocks away, my memories of old Florida are rooted in and around the Reserve.
My connection to Genius Reserve began in the late 1970s. As a child, I built forts, picked oranges, relaxed and played games with the other neighborhood kids in this area. There was no place like it in Winter Park, and for a child, it was the perfect place to play.
When family and friends came to town, my parents, as did most people in Winter Park, always drove the guests through Genius Drive to see the peacocks. I never imagined that I would have the opportunity to come back some thirty years later and be a part of the restoration of this very special place.
There is no classroom in the world that could have taught me more about restoration, plants, ecology, communities and wildlife than the outdoor setting of the Genius Reserve. My most rewarding experiences have been our planting successes at the Banana Grove and Cedar Grove, and walking the Reserve alone.
Walking around the Reserve is my soul's reward for working hard to help nurture this area back to health, and each step I take means more than the last. The light and the shadows are in an endless waltz with each other from sunrise to sunset, and often at night, the moon joins in with its own romantic dance. The curving dirt road, the pastoral views with their insinuating shadows, the flowers, the fragrance, the sounds of birds and wildlife, the sound of the wind, and the sound of the stillness fills me with a sense of place that I am certain Marjorie Kinnan Rawlings felt at Cross Creek.
At the end of her book, Cross Creek, Rawlings philosophizes about our connection to the land: "It gives itself in response to love and tending, offers its seasonal flowering and fruiting. But we are tenants and not possessors, lovers and not master. Cross Creek belongs to the wind and the rain, to the sun and the seasons, to the cosmic secrecy of seed, and beyond all, to time."
Befittingly, my experiences have taught me that Genius Reserve belongs to these as well.