Donald Christian Griffin came to Rollins College in 1960 as a student, and then in 1970 as a professor. He has spent most of his life at Rollins where he has instructed students in physics, served in administrative positions, as well as received numerous honors.
Griffin was born on April 27, 1942, in Pittsburgh, Pennsylvania. He studied at Rollins College, majoring in physics, where he received his bachelorís degree in 1964. From the Purdue University, Griffin received his masterís degree in 1966, and his doctorate in 1970.
Having joined the Rollins College faculty in 1970, Griffin has not only taught courses in physics, but also found time to do research and publication. He has participated in research at Los Alamos, Livermore, and Oak Ridge, just to name a few, and has published 167 articles, and composed forty-six invited papers. Griffin has not only served Rollins as a member of the faculty, but also as vice provost, acting provost, and interim dean of faculty.
Throughout his Rollins career, Griffin has been recognized with several awards, including the Archibald Granville Bush Professor of Science and the Rollins Decoration of Honor in 2001, and the Bornstein Award for Faculty Scholarship in 2004. He is a member of two honor societies: Sigma Pi Sigma and Sigma Xi. He is also a fellow of the Physical Society of America and the European Institute of Physics. His primary areas of teaching are: quantum mechanics, mechanics, principles of physics, general physics, physical science, and modern physics. His research is in theoretical and computational atomic structure and atomic scattering.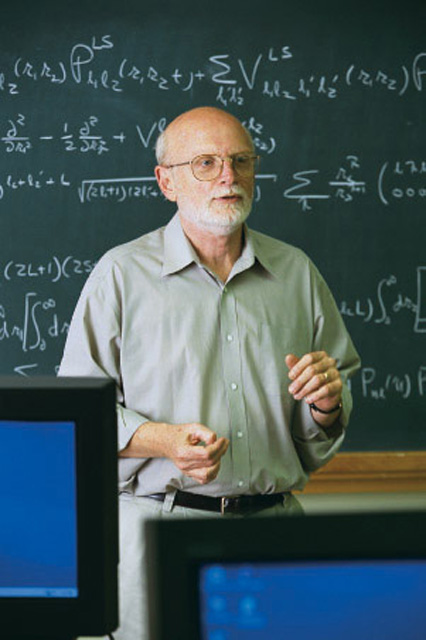 What's your view of the college from being a student and then later a faculty member?
"Well I, as I said, I think that overall the student body is just tremendously stronger than it was when I came here as a student. In the sense that, we had really good students back then, donít get me wrong, and we still do have very good students, but we had many more of those who arenít here anymore..."












"...We have become very focused on our own departments and our own areas... when I was a student here, that wasnít true. And when I came back as a faculty member, I spent as much time with people in philosophy and art and history as I did with people in the sciences... thatís what I really loved: that I could sit and argue with a philosopher or historian or... someone outside of my discipline..."






"Iíve always taught a lot of non-major classes. I find that much more a pedagogical challenge than teaching a group of majors who already have interest... For years, I taught a course on energy because... everybody was wondering where the next barrel of oil was coming from. And so I taught a course in energy, which really allowed me to teach all kinds of various physics and relate it to what they were experiencing..."






"... So all my research, my theoretical research, was done at Los Alamos in New Mexico... I sat in an office where, in a place where Nobel Prize winners visited regularly. The seminars were by the most famous physicists in the world... The people that came to visit were just people who... were kind of gods of physics and you just wanted to be close to them and hear what they had to say."







"Iíve had some kids that Iíve turned around... one of my favorites ever... was the biggest goof-off I think Iíve ever had as a physics major. And he used to be late for everything, really talented... I ended up sending him to work with the group that I worked with at Oak Ridge for years. He got his Ph.D. in atomic physics, my field..."