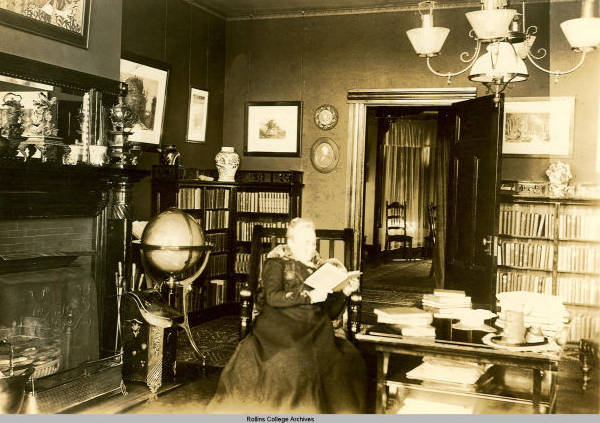 William Charles Comstock was born in Oswego, New York on October 27, 1847. He attended Northwestern University and graduated with a Bachelors of Arts in 1867. Comstock continued his education and received his Masters Arts in 1870. He lived in both Evanston and Chicago, Illinois and eventually became a member of the Chicago Board of Trade.[1]
Like many of Winter Park's early settlers, Comstock moved to Florida for health reasons in 1872.[2] He moved to Osceola, later to be called Winter Park. When Comstock first arrived, he was awed by the area, and fell in love with the climate and the lakes. Comstock often spoke of how he would never forget his first impression of the Osceola camp.[3] He quickly purchased land alongside Lake Osceola and established his first winter retreat in 1882. By 1883 his home "Eastbank" was complete.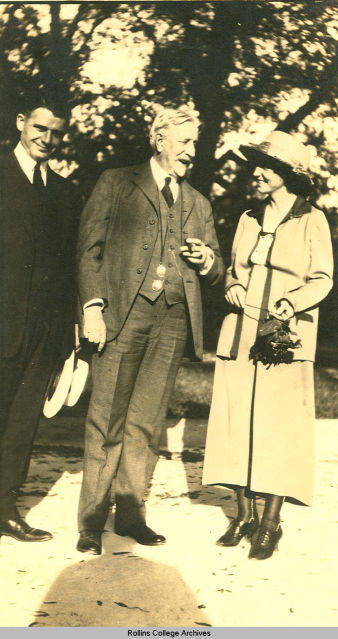 In Winter Park's early days, Comstock used his wealth to contribute to the community, including multiple generous donations to Rollins College. After giving the College $10,000 as part of its original endowment, over the next five years Comstock donated an additional $5,000 for various improvements to the school. He served as director of the Winter Park Land Company and continued to enthusiastically serve and improve the community. Often, he paid for municipal improvement projects out of his own pockets.[4] Comstock, along with his wife, contributed a building to start the first Library in Orlando.[5] For his involvement, Comstock was elected chairman of the Endowment Committee and was a charter trustee for Rollins College. He remained a Trustee until he resigned in 1892.
Comstock lived his life as a devout Christian and was always in high spirit. He believed strongly in the existence of God and even wrote a small text titled God's Purpose for Life. In fact, it was Comstock's optimism and support that saved Rollins from being considered an unsuccessful project by other trustees in its early years. His enthusiasm inspired others to not alter the College's mission and character.[6]
An avid golfer, Comstock was a member of several golf clubs in Central Florida. He was a firm believer in the Rollins College motto of Fiat Lux –Let There Be Light. In a speech delivered on Founder's Day in 1920, he addressed the crowd stating that "Let there be light. That expresses the purpose of her [the college] founding and the purpose of her continued existence."[7] Many believe that if it were not for William C. Comstock, there would be no Rollins College standing today. William Comstock died in Chicago on September 24, 1924.
- David Irvin
---