Albin Polasek was born in Frenstadt, Moravia, now known as the Czech Republic, on February 14, 1879. At the age of fifteen, Polasek became a wood carving apprentice in Vienna. With little money to his name, he immigrated to the United States in 1901. He traveled to LaCrosse, Wisconsin where he worked in a stone and altar factory. He also worked in Chicago in order to earn money. Polasek was accepted into the Pennsylvania Academy of Fine Arts. After attending this prestigious school, he won a fellowship to study at the American Academy in Rome.[1]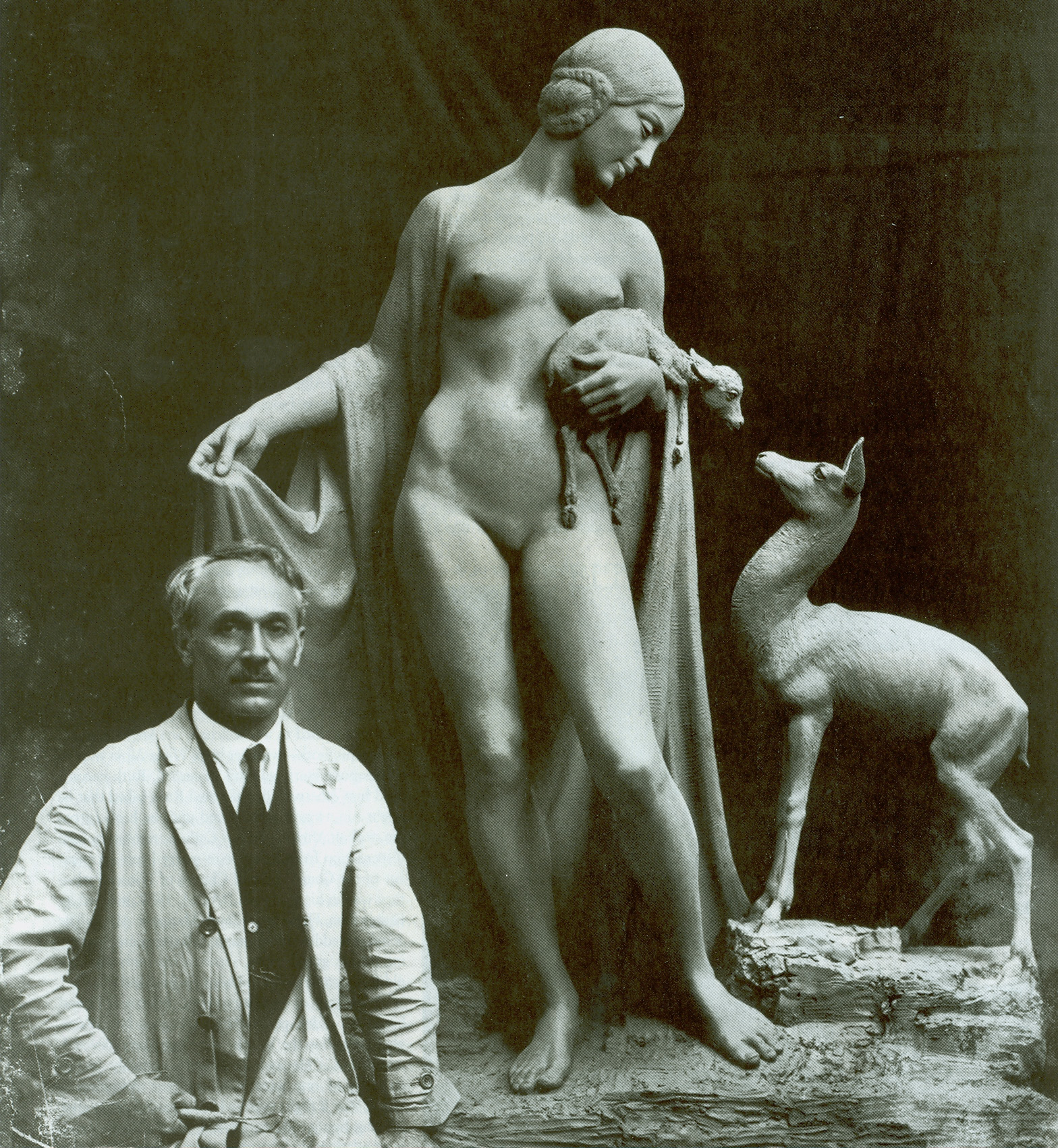 He later returned to the Midwest to lead the sculpture department at the Art Institute of Chicago. He was then elected as the Associate Member of the National Academy of Design. This organization honored top American Artists.[2]
Polasek became well known throughout the United States and the rest of the world as a successful and talented artist. While in Chicago, he met Ruth Sherwood, a student eleven years his junior. He asked her to become his secretary. She accepted and remained his secretary for twenty-five years. Ruth was devoted to Polasek and even learned his native language and traveled to his native country with him.[3] In 1945 Ruth became ill with throat cancer and retired. She returned to her family in Winter Park, Florida. Polasek built a house on Courtland Avenue in her honor and visited her for several years.
In 1949, Polasek made plans to retire. Going back to the Czech Republic was out of the question since the country was ruled by communists He moved to Winter Park and built a house close to Ruth's residence. Built in 1950, its design contained Italian and Moravian influences. Open to the public, the house, was meant to serve as a living museum that functioned as a home, art studio and gallery.
In April 1950 Polasek suffered a stroke that left him paralyzed, in a wheelchair and without use of his left arm. Ruth, as devoted as ever, encouraged him to continue working on his art. On December 14, 1950 they were married. In the midst of despair, he bought a lot at the Winter Park's Palm Cemetery.[4] A year later, Ruth died of throat cancer and was buried in the lot.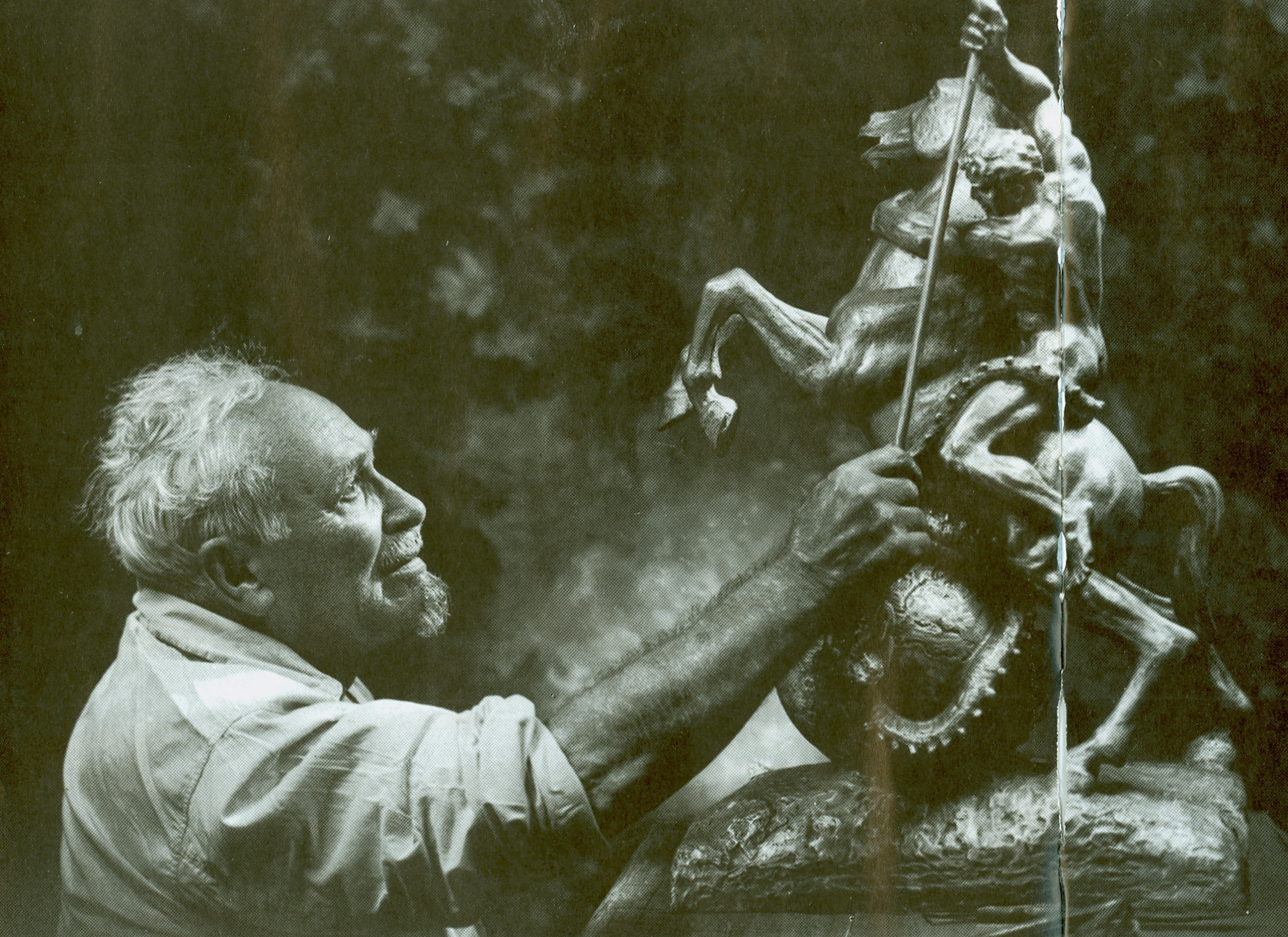 In 1937 Polasek met Emily and Will Kubat. They were both Czech-Americans. Polasek and the Kubats became intimate friends and spent many holidays and evenings together. On February 4, 1960 Will died and Emily decided to return to her family in Wisconsin. Polasek begged her to stay, claiming illness. Polasek was not ill but only wanted her company. A year after Will's death, he asked Emily to marry him. They were married in 1961.[5]
While in Winter Park, Polasek was heavily involved in the community. He entertained many Winter Park residents at his home. He was also an active member at St. Margaret Mary Catholic Church. Polasek's artwork was highly influenced by his catholic upbringing. About one-third of his sculptures are religious in nature. Polasek also restored Lake Eola Park's Confederate Memorial after vandals damaged it in 1964. In 1965 he was awarded the key to the City of Winter Park after donating a reproduction of one of his statues to adorn the outside of city hall.[6]
Polasek died on May 19, 1965. He was laid to rest in Palm cemetery next to his first wife, Ruth. Emily joined them in 1988. His home was his gift to the city of Winter Park. The Polasek Museum is open to the public and continues to serve the Winter Park community by displaying his artwork, garden, hosting lecture series and other events. The studio-gallery grounds are open to the public at no charge.
- Kerem K. Rivera
---