Frederick Wolcott Lyman was born June 18, 1849 in Plymouth, Connecticut to a congregational minister named Rev. Ephraim Lyman and his wife Hanna Lyman. Frederick was one of five children. He spent the majority of his childhood in Washington, Connecticut where he also attended the Gunnery School.[1] At the age of fourteen his family resettled in Northampton, Massachusetts. As a minister, Frederick's father earned little pay.[2] By the time Frederick completed his first year of high school he was forced to leave his studies and fend for himself. Frederick worked in a general store but made up for his inability to attend school by teaching himself algebra, geometry, English and many other subjects in the afternoons, after the store closed.[3]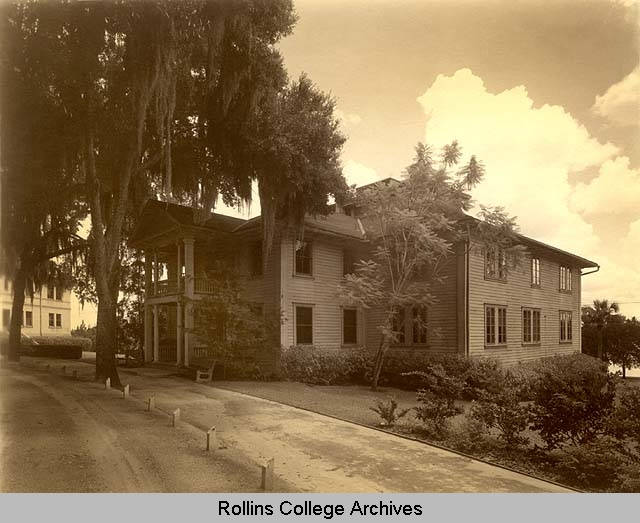 In 1871, at the age of twenty-one, Frederick followed his brother, George, to the west in search of opportunity.[4] He settled in Minneapolis, Minnesota where he established a business enterprise. While residing in Minneapolis he became heavily involved with the community. Lyman became treasurer of the Lyman-Eliel Drug Company, director of the National Bank of Commerce, Northwestern National bank and the Minnesota Loan and Trust Company.[5] He also became President of the Business Men's Association and a member of the City Charter Committee. He spent some time as deacon, superintendent of the Sunday school and chairman of the Board of Trustees of Minneapolis, Minnesota.[6]
On May 9, 1876 Lyman married Elizabeth Huntington Clark. Together they had three daughters: Katherine Hart Lyman; Jeannie Huntington Lyman, who died as a child; and Margaret Foster Lyman. They also had one son named Frederick Clark Lyman. The Lyman family first became aware of Winter Park in the spring of 1882 when Mrs. Lyman and her mother visited Maitland.[7] Loring Augustus Chase brought them to Winter Park. Mrs. Lyman bought a plot before heading back home, and in the fall of 1883 had a small winter house built on the property. The Lyman home was located on the corner of Morse Blvd. and Interlachen Ave.[8] Frederick and his family spent winters in Winter Park due to his wife's disdain withstand for Minnesota winters.[9] While in Winter Park, Lyman spent the majority of the time developing the town. He help found the Congregational Church, becoming a prime contributor and supporter of the church.[10]
When Lyman received word that there were suggestions about the possible creation of a college in Florida, he, more than anyone else advocated for Winter Park.[11] He became deeply interested in the matter and spent much of his time and money helping found Rollins College. On April 10,1885 he proposed $5,000 to "The Congregational College" on the condition that it was located in Winter Park.[12] At the Congregational meeting that was to decide the college site, he pushed for the Winter Park bid forward. The bid Lyman presented was about $114,000 surpassing that of all the other cities.[13]
With Lyman's help, Rollins College was incorporated on April 28, 1885. He soon became the elected President of Rollins Corporation and Chairman of the Board of Trustees. He helped plan the construction and furnishing of the first four buildings on the Rollins College campus. Those buildings were Knowles Hall, Pinehurst Cottage, a Dining Hall and Lakeside Cottage. The Freeze of 1886 affected the financial and administrative status of the college but Lyman persevered and because he had the best interest of the College in mind, Rollins College pulled through this difficult time.[14]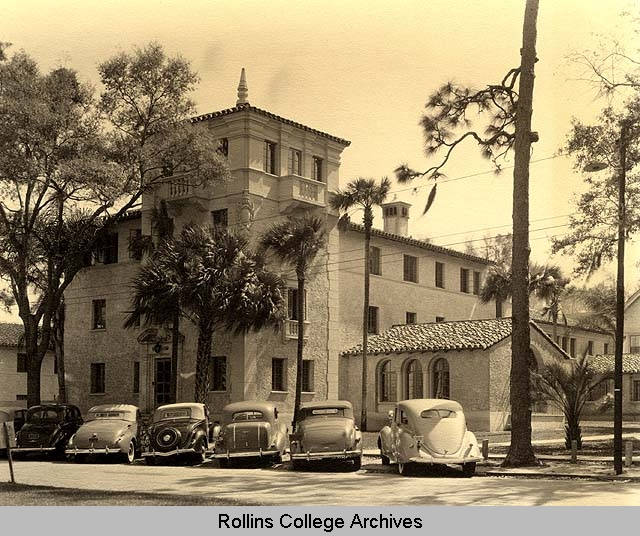 In 1890 Lyman offered to build a gymnasium for the school. It was built that summer and named Lyman Gymnasium in his honor. Lyman continued to work with Rollins College and the Winter Park community throughout 1899, even as he and his family were forced to move to Arizona and later California in response to Mrs. Lyman's deteriorating health.[15] On May 28, 1890 Lyman resigned as President of the Rollins Corporation and established the position of President of Faculty to take over his position. He was then elected as a trustee and member of the Executive Committee. In 1905 he permanently retired from business and spent his remaining winters in Pasadena, California and his summers in Minneapolis, Minnesota. He kept close ties with the College and went on to give Rollins $1,000 to his original endowment fund, and donated his house and furniture as part of the endowment.[16] $200 was allocated each year to keep the house in good condition. The house was later sold for $4,000 during financially demanding times.[17]
Elizabeth Lyman died in 1913. Lyman continued making an impact on education by being elected trustee of Pomona College in Clermont, California in 1914. He served in this position until 1928 and was honorary trustee until 1931. Lyman died on December 22, 1931 in Pasadena California at the age of eighty-two.[18] His extensive contributions to the Winter Park and Rollins College community have had a tremendous impact. Lyman can rest assure that his efforts have not been in vain.
- Kerem K. Rivera
---
[1] Katherine H. Lyman, "Frederick W. Lyman" Frederick W. Lyman file, 20B, Rollins College Archives.
[5] "Frederick Wolcott Lyman" (Outline, Rollins College, 1956). 1
[9] Katherine H. Lyman, "Frederick W. Lyman" Frederick W. Lyman file, 20B, Rollins College Archives.
[12] "Frederick Wolcott Lyman" (Outline, Rollins College, 1956). 2
[14] Katherine H. Lyman, "Frederick W. Lyman" Frederick W. Lyman file, 20B, Rollins College Archives.
[16] "Frederick Wolcott Lyman" (Outline, Rollins College, 1956). 3
[18] Katherine H. Lyman, "Frederick W. Lyman" Frederick W. Lyman file, 20B, Rollins College Archives.