Educator, historian and community activist Lucy Worthington Blackman was an important player in the early years of Rollins College and the Winter Park community where her influence extended far beyond her initial role as the wife of the college president. As founder of the College's domestic science program, an active clubwoman at the local, state and national levels, and the author of a history of Florida women, Blackman worked tirelessly to press for educational improvements and social reform and to recognize the influence of women in society.
Born July 1, 1860 in Steubenville, Ohio, Blackman was schooled in private institutions followed by three years of travel and study in Europe. Although she took courses at several universities, she never received a degree. She married clergyman William Fremont Blackman on July 1, 1884, and supported his work as a professor at Yale University and then as president of Rollins College for thirteen years (1902-1915). They were the parents of three children: Berkeley ('07), Worthington ('10) and Marjorie Blackman ('11).
When the couple came to Rollins College, Lucy Worthington Blackman quickly became involved with the life of the campus and the surrounding community. The President's House became the center of many social and cultural gatherings. That same year, Blackman established the coeducational college's Domestic Science Department – the first in Florida – to provide sewing and cooking courses. At the time such courses were considered "wholly compatible with, or even essential to, a girl's education," wrote Blackman, who taught the classes for two years until the school found funding for a trained teacher and supporting equipment.[1]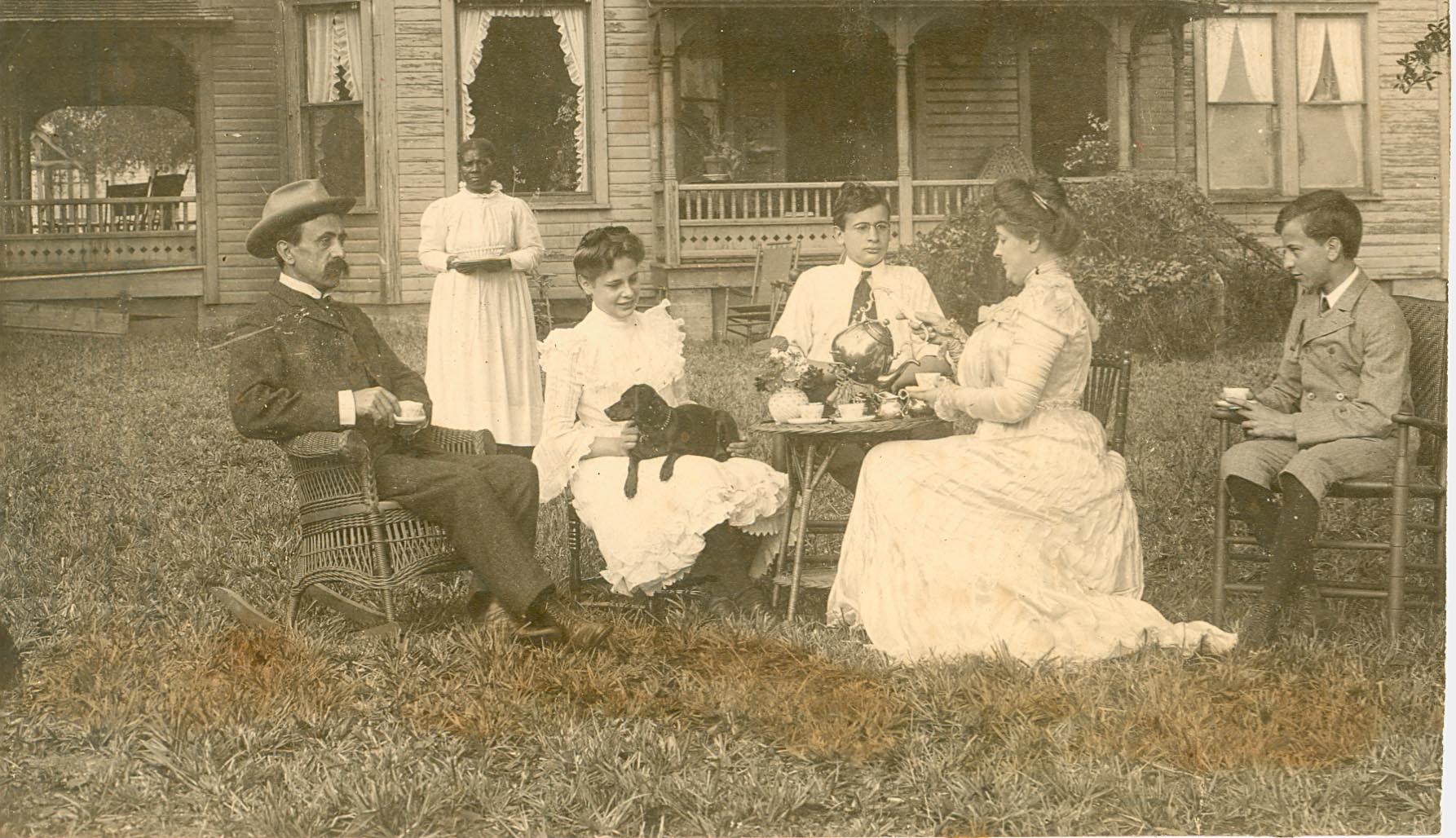 A year later, Blackman's charm and patience as a hostess was tested when she entertained the "eccentric and unpredictable" Chicago philanthropist, Daniel K. Pearsons, for two months as a houseguest.[2] Her hospitality to this "capricious man" enabled the College to earn his goodwill and financial support of $50,000 for the College's original endowment.[3] She also organized the Ladies Auxiliary of Rollins, a group composed of faculty and trustee wives that raised money for the school.[4]
In 1903 Blackman joined the fledgling Florida Audubon Society, established in nearby Maitland to press for legal protection of the state's birds and education and marketing efforts to save them. She served for many years as a vice president and a member of its executive committee (her husband was president for many years) and in 1935 penned a history of the organization.[5]
Blackman family in Winter Park: (from left to right): William Blackman, housemaid, Marjorie, Berkeley, Lucy and Worthington Blackman.
Blackman's most notable role, however, was her work with the clubwomen movement that began in the late 19th Century as women became active in seeking remedies to societal ills. Blackman was a member of a number of women's groups, including the Woman's Club of Winter Park, which she helped found in 1915, the League of Women Voters, and the Business and Professional Women's Club. Blackman served as president from 1923-26 for the Florida Federation of Women's Clubs, the statewide umbrella for women's groups around the state that pressed for legislation on a number of fronts, from conservation to prison reform to child welfare. The following two years Blackman chaired the education department of the General Federation of Women's Clubs, the national organization that carried great political clout in the United States.[6]
Her work with women from across the state inspired Blackman to write a two-volume history, entitled The Women of Florida, published in 1940. "It is high time that this were done," Blackman wrote, noting many local and state histories "deal in the main with men only; their authors seem to have been oblivious to the fact that in all these years there have been women in Florida…"[7] The history, the first of its kind in the South, offered accounts of women in Florida since its earliest times and provided biographies of women active in different state organizations. "In view of the changes taking place in the social, political, industrial, and financial institutions in our country, it seems a propitious and an appropriate time to make inquiry into the value of the part women can claim in the making of the commonwealth, and in particular the period during the past half-century covering their 'awakening' and the use of their reluctantly bestowed citizenship," Blackman wrote.[8]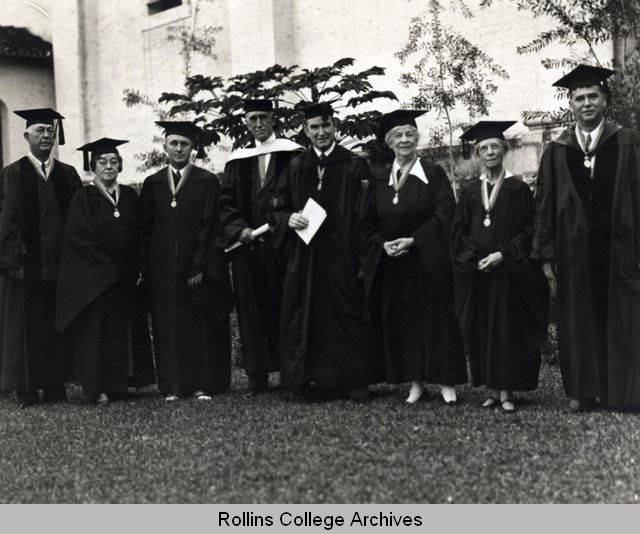 After William Blackman's retirement, the couple moved to Wekiva Ranch, located on the St. Johns River, where they raised cattle, hogs, fruits and vegetables. There, at age 58, Lucy Blackman often spent a large part of the day on horseback.[9] In later years the couple moved back to Winter Park, where William Blackman died in 1932.
At the Rollins Semi-Centennial in 1935, College President Hamilton Holt awarded Blackman the Rollins Decoration of Honor, noting that there "is not an old student of this College who could not and would not testify to your devotion to the faculty and student body during the entire time that your husband was President of Rollins."[10] Seven years later at her funeral, Holt remembered her as "queenly, gracious, large, dignified, friendly."[11] He noted that it was "difficult if not impossible to name a woman in Florida who has done more or been more in the last fifty years than Lucy Worthington Blackman."[12]
She and her husband are buried in Winter Park.
- Leslie Poole
---