John Martin was born on May 13, 1864 in Lincoln, England to John and Ann Martin. He was educated in English public schools. Public schools, in the English sense, refer to privately operated secondary schools that oftentimes require tuition, as opposed to the American notion of public schools, which are funded with taxpayer revenue. After Martin attended the National Normal School in London from 1883 through 1884 he obtained the Queen's (Victoria) Scholarship, and for the next two years taught in the London public schools. In 1889 Martin earned his Bachelors in Science from the University of London. In 1894 he became professor at the East London Technical College, where he remained there until 1897.
While in England, Martin became a member of the executive committee of the Fabian Society. The Fabian Society was comprised of prominent individuals interested in social reform. Fabian members included George Bernard Shaw, Sidney and Beatrice Webb and James Ramsay McDonald. Martin lectured at the People Palace in London where working men and women went to study.
Martin came to the United States in 1898 on a lecture tour. Shortly after arriving, Martin made up his mind to move to the states. In 1900 he married Prestonia Mann. Together, they established a home in Staten Island, New York. They also owned a home in the Adirondacks, Keene, New York where they hosted many prominent individuals including H.G. Wells and Maxim Gorky. Gorky, a Russian author, wrote his short novel, "Mother", considered his best work by many Russian critics, while staying in the Martin residence.[1]
Martin spent many years involved in the New York education system. From 1900 to 1902 he became a director for the League for Political Education. In 1903 he became a naturalized U.S. citizen. From 1908 to 1916 Martin held several positions in New York City including director of the City Housing Corporation, member of the New York Board of Education, member of Woodrow Wilson's pre-nomination campaign and a free lance writer and lecturer. During his time in New York Martin became heavily interested in adult education.[2]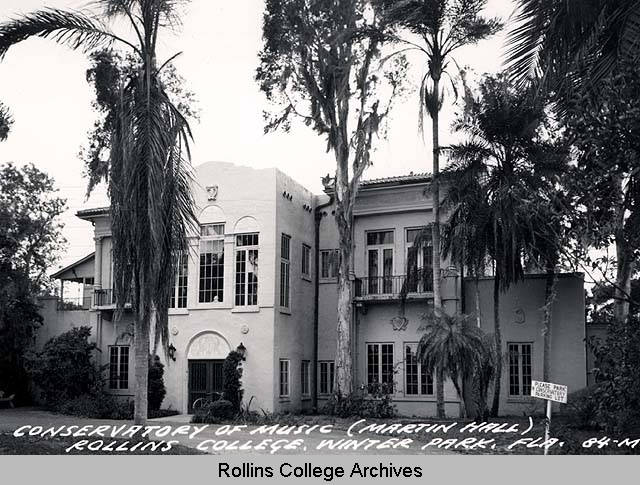 In 1928 Martin moved to Winter Park, Florida. The following year he began working at Rollins College, and the connection lasted until his death in 1956. During his time at the college he served as a visiting professor, conference leader, lecturer and consultant on international relations. He focused on international problems especially those dealing with peace and war. He was known throughout Florida as a great lecturer. His lectures, which were held every Thursday and dealt with America's foreign and domestic policies became so popular with students and residents, that the programs were moved to the Annie Russell Theater, then to the Congregational Church and finally to the local high school auditorium to accommodate the growing audience.[3] For his accomplishments, he received an honorary degree (L.L.D) from Rollins on February 24, 1936.
At his farewell celebration the audience passed a resolution asking Martin to continue his work.[4] John Martin died on April 6, 1956 in Winter Park, Florida. Martin willed his home to Rollins. It was later used as the College conservatory of music. There was no doubt that Martin was a thinker and innovator. He greatly influenced the way people thought about international problems.
- Kerem K. Rivera
---