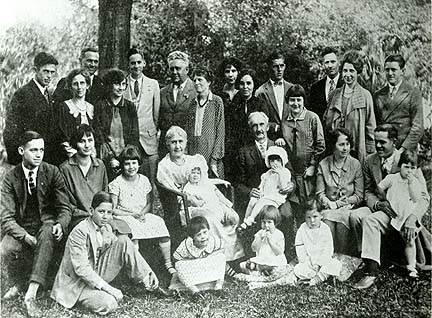 Harold Anson Ward was born on June 12, 1878 in Burlington, Vermont to Charles Hezekiah and Emma Ward. His father was an influential member of the Winter Park community. The elder Ward helped establish a fresh water pumping system and was a member of the town council. Harold's family moved to Orange Park, Florida in 1879. A failed citrus grove led the family to relocate to Winter Park in 1886. The family home was located on Lake Sylvan.
Harold attended Winter Park public schools. He also attended the Rollins College Academy and graduated in 1895. Upon graduation, Harold was involved with the Winter Park Pioneer Store for ten years.[1] He also married Annie M. Griffin in Asheville, North Carolina on October 22, 1902. He had eight children, Harold A. Jr., Gertrude, Ruth, Ernest, Earl, Walter, Florence and Margaret.
Throughout his time in Winter Park, Harold Ward was involved in the Winter Park Land Company along with Charles Morse. In March of 1904 he became the manager for Charles H. Morse's property. He continued after Morse's death in 1921. Ward played an important role in persuading Morse to purchase the Knowles estate. The latter was made up of about some thousand lots in the city and the surrounding area. Ward also served as tax collector, tax assessor, city clerk, alderman and mayor of Winter Park.
Harold was heavily involved in the community. He was a member of the Congregational Church, Business Men's Club, Aloma Country Club and Chamber of Commerce as well as president of the Winter Park Fruit Company. He established the Winter Park Refrigeration Company with H. Earl Cole and helped build the first pre-cooling plant for oranges in Winter Park. Ward and Cole sold the plant and incorporated as the Lake Charm Fruit Company. Ward was also vice president of the Bank of Winter Park, a member of the Winter Park Public School Board and a trustee for the Hungerford Normal and Industrial School in Eatonville, Florida. Ward founded the Winter Park Insurance Agency and was also president of the Goldenrod Corporation. The Goldenrod Corporation held a partnership with the Winter Park insurance Agency.
Harold became a Rollins College trustee in 1923. Links between the Ward family would continue with children and his thirteen grandchildren. On May 14, 1929 he married Charlotte McKee from Aspen, Colorado. Harold Anson Ward died on June 13, 1954.
- Kerem K. Rivera
---
[1] William Fremont Blackman, History of Orange County Florida. (DeLand, Florida: The E. O. Painter Printing Co., 1927), 59.