On August 2, 1999, Rollins College lost a treasured friend. With her husband, George '35 '89H, Harriet Cornell literally changed the face of the College. As Rollins President Rita Bornstein said, "As we walk the campus, we see the name 'Cornell' on every comer of the campus, and we see how much a part, how embedded they are in the life and the evolution of this wonderful institution."
Harriet Wilkes and George Cornell were introduced by mutual friends, the grandchildren of Don Tomas Estrada-Palma, who had run a school with George's grandfather before becom­ing president of Cuba. The couple's dates were often a movie followed by homemade pie at a nearby restaurant. Harriet and George married in 1936, and their wedding present from George's father was a Model A Ford. With typical spirit, Harriet asked if they could have a convertible. The Cornells started their life's journey together in a blue "Tin Lizzie" with the top down.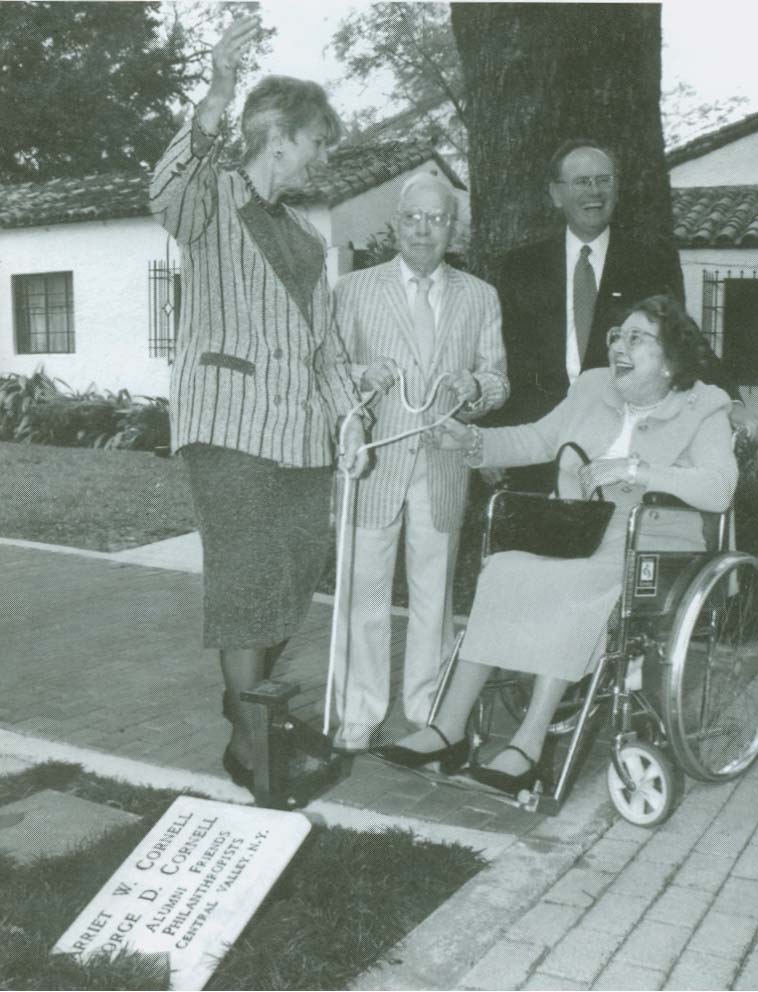 The Cornells' travels weren't limited to the highway, however. She loved cruises, and George, who was president of the Flying Club at Rollins, flew his own plane. Gary duPont Lickle '76 '77CR, who discovered the barnstorming Cornells were "an adventuresome couple," enjoyed their stories of flying from New York to Florida, landing in fields when the weather turned bad.
The Cornells first took up residence in Manhattan, visiting their hometown, Central Valley, N.Y, in the summers. When George accepted a position with the Central Valley National Bank, they had the opportunity to move back. Both Harriet's and George's families have deep roots in Central Valley and sur­rounding Orange County, dating from Colonial times. Harriet's grandfather's family produced chain that was placed across the Hudson River to thwart British troops during the Revolution.
Like George's father, who had wintered in Florida for years, the Cornells began spending part of their time in Delray Beach. In 1950, they built a second home there. Ultimately they would divide the year between Central Valley and Delray Beach, and they actively contributed to improving the quality of life of both communities.
The Cornells shared a special affection for dogs ("They love you, no matter what," Harriet explained), and in the first month of their marriage, they welcomed Ivan Demetree, a Samoyed. Georges family was one of the first in the US to own Samoyeds, and Ivan was the first of a series that spanned the Cornells' marriage. Last spring, after several years without a canine com­panion, Harriet surprised George with a new puppy: Ivan III.
For some time, the Cornells collected their dogs' fur, hop­ing it could be used for a creative purpose. Richard Summers, a 1970s Rollins art instructor, successfully spun and wove the fur into a lap robe and wall hanging for the Cornells. Understandably, the fur art made headlines.
The Cornells' interest in animals extended well beyond dogs. They became good friends and supporters of anthro­pologist and conservationist Jane Goodall, known for her pioneering work with African chimpanzees. Closer to home, their contribution to the Dreher Park Zoo in West Palm Beach funded the Cornell Nature Trail through a cageless rain forest.
Central to the Cornells' lives has been their extraordinary generosity, which gave them both great pleasure. Harriet commented, "We've enjoyed seeing the results of our gifts and seeing other people enjoy what we have given." The Cornells have been Rollins' largest contributors, and they also contributed to Cornell University, named for the first cousin of George's grandfather. Rollins trustee Thomas P. Johnson '34 '82H '99H described Harriet as "an active partner" in the Cornells' philanthropy. "She had a great fondness for Rollins," and encouraged George's support of his alma mater.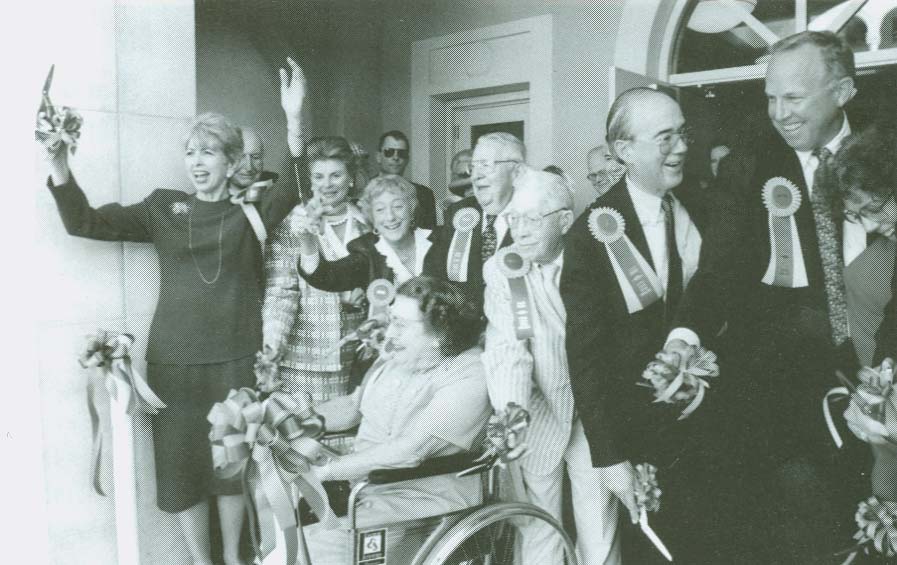 In 1973, the Cornells pledged the gift that created Rollins' George D. and Harriet W. Cornell Fine Arts Museum and Cornell Art Center, which houses the Department of Art. Their support was recognized by the Presidents Council of the Independent Colleges and Universities of Florida with its Champion of Higher Independent Education in Florida (C.H.I.E.F) Award in 1980. The commitment to the Cornell Fine Arts Museum was followed by gifts to support construction of the Alfond Stadium and to endow scholarships for art students and the George D. and Harriet W. Cornell Chair of Classics, now shared by two Cornell Scholars in Classical Studies. In 1996, the Cornells pledged an additional $1.5 million for expansion of the Cornell Museum. Harriet's particular interest in floral art was also reflected in their gift of the "Cornell Cafe South" to the Morikami Museum and Japanese Gardens in West Palm Beach.
The Cornells again responded to Rollins' needs when they stepped for­ward in 1986 to provide lead funding for the Cornell Hall for the Social Sciences. They playfully announced their commitment by arriving at a Halloween dinner for College trustees declaring, "Trick or Treat-we're going to give you the building." The Cornell Hall for the Social Sciences houses classrooms and offices for faculty in the Departments of Anthropology, Business Administration, Communication, Economics, Education, History, Politics, and Sociology, as well as the original Cornell Cafe, where the Cornells loved to eat when they were on campus.
The Cornells treated the College to another special holiday gift when, in December 1993, they committed $3 million for the Cornell Campus Center, setting in motion the realization of a dream that had spanned three decades. On February 18, 1999, they joined the Rollins community in celebrating the dedication of the Cornell Campus Center, which President Bornstein described as the high point of her relationship with Harriet Cornell. "I think she was really excited by the joy of the students, faculty, and staff. The whole series of dedication events was a tribute to the Cornells and their vision. I am so happy she had the opportunity to enjoy that and to see what it meant to the College."
Harriet Cornell was proudest of the buildings she and George gave to Rollins, and she actively involved herself in their design, construction, landscaping, and maintenance. As the citation that accompanied her 1990 Rollins honorary Doctor of Humane Letters degree declared: "Harriet is in the details. "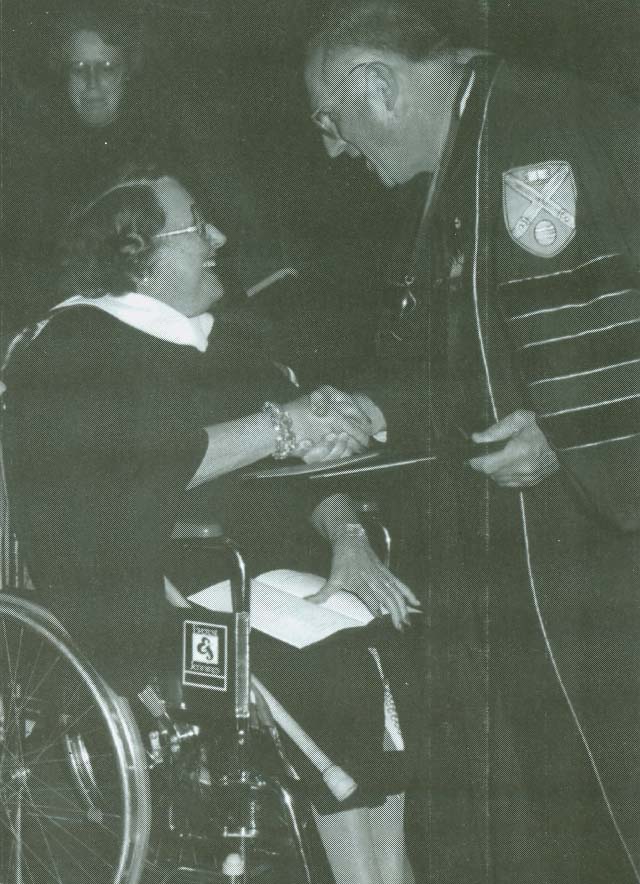 Although adolescent polio placed her in a wheelchair in later life, Harriet never failed to rise above the challenge. Friends and acquaintances cite her liveliness and cheerfulness, and credit her with being a role model and an inspiration. Her own hardship created a special awareness that fueled the Cornells' support for restoration of Delray Beach's Old School Square and assured disabled access in every Rollins facility funded by the Cornells.
Harriet adored students. "You could see her eyes light up when she was with students," recalled President Emeritus Thaddeus Seymour, and, they were thrilled when she remembered them at alumni events years later. She was especially grat­ified by the successes of graduates who had attended Rollins with the assistance of Cornell scholarships, and she avidly fol­lowed their careers. She had already been named an honorary member of George's class, but Harriet was also adopted by the Class of 1990. When she challenged 1990 class members to join her in supporting their alma mater, giving reached an astonishing 97 percent.
Without a doubt, Harriet Cornell was a "social animal"-she loved being with people. Everyone who knew her remarks on the special joy she took in life, what President Emeritus Seymour characterized as her "girlishness," embodied in good-humored delight and cheerful teasing. Bill Gordon '51, associate vice presi­dent emeritus for development and past director of alumni affairs, recounted a trip to the White House that entailed an entrance through the kitchen. Harriet quipped, "I've been through kitchens in the most important places in the world."
Emeritus trustee Marilyn Mennello described Harriet Cornell as a warm, natural person, with no pretense-"She was just Harriet." "She treated everyone the same," added honorary trustee Betty Duda '93H. Sue Allison Strickland '74 agreed: "She had the ability to fit in and be fun-she was a great sport. Before I knew her, I placed her on a pedestal. As I got to know her, she became one of my girlfriends."
It is impossible to calculate the number of lives Harriet Cornell touched or the impact of her oft-cited loyalty to Rollins, but there is no question that her legacy will endure for genera­tions to come. Like Lucy Cross, whose dream of a college in Central Florida inspired Rollins' founding, Harriet Cornell will always be remembered as one of Rollins' greatest women.
- Lorrie Kyle '70
*This article was first appeared in the October 1999 Issue of the Rollins Alumni Record.