Frederick Alexander Hauck was born on December 28, 1894 in Cincinnati, Ohio to Louis John and Frieda (Schmidt) Hauck. John was a well-known banker and businessman and Frederick was raised in a wealthy family. He was first educated in Cincinnati public schools, and then attended Franklin Preparatory School and studied at the University of Munich in Germany. Upon graduation, he began to work for the firm of Max Wocher and Sons, which produced surgical supplies and was quickly promoted to vice president. He served as chairman of the board from 1916 to 1937. He married Carolyn Russell Frear of Troy, New York on October 17, 1929. They had two daughters Alexandra and Frances.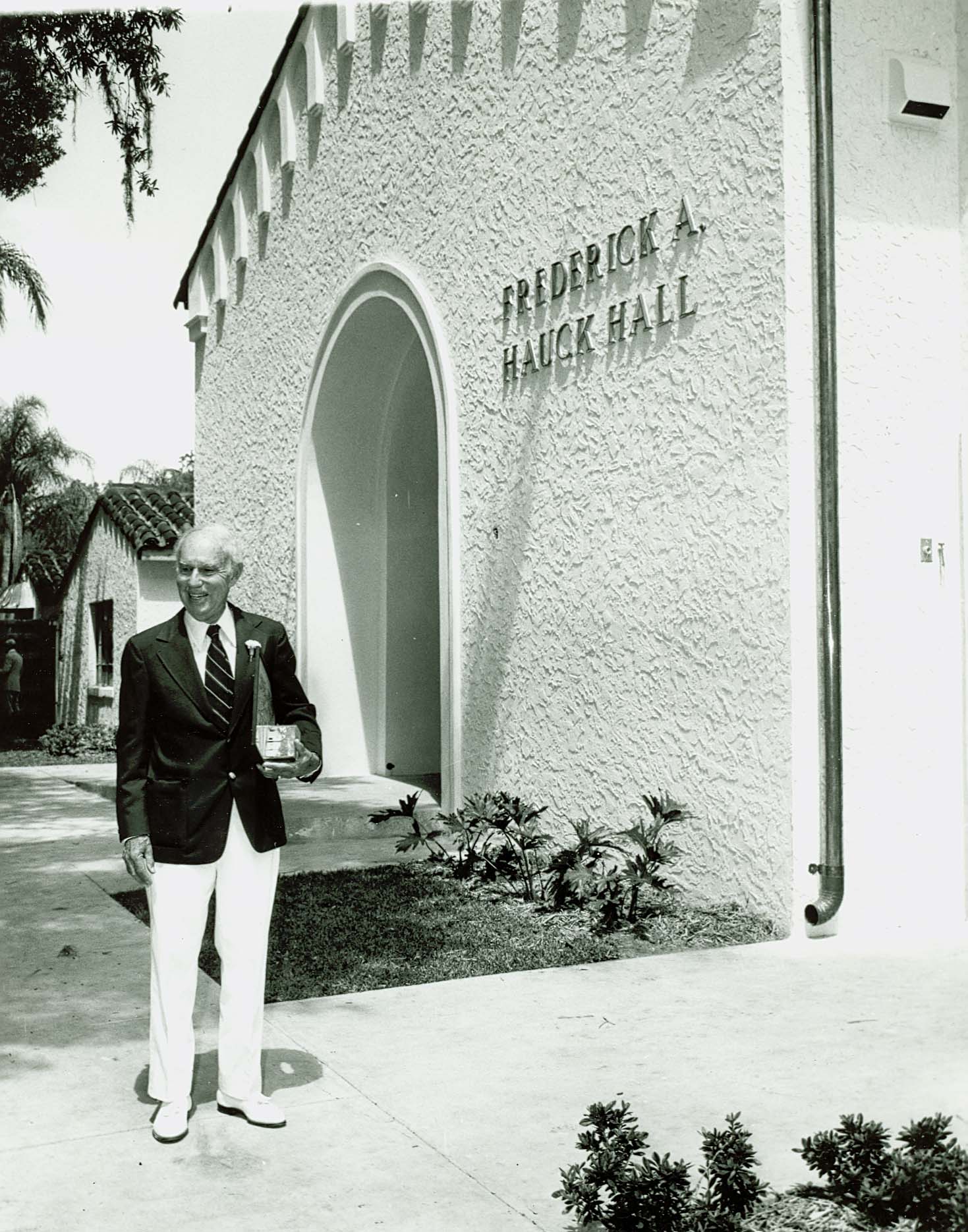 Frederick's father had been involved in the mining industry. Papers left behind by his father sparked his interest in the industry.[1] He became president and a stockholder of the Transversal Copper Mining Company. However the company experienced financial difficulties in the 1950s. As a result, Hauck traveled to Mexico to inspect his property. While visiting he collected borings from the mines and brought them back to Ohio where they were inspected. Rare metals were found and Hauck began researching and studying the materials. He became a well-known metallurgist and worked with the Bureau of Mines and the Atomic Energy Commission.[2]
Hauck purchased the Florida Ore Processing Company in Melbourne in an attempt to obtain heavy minerals from beach sand. Afterwards, he formed the Continental Mineral Processing Corporation in Sharonville, near Cincinnati after consulting Albert Einstein on the matter of mineral abstraction.[3] The facility allowed workers to separate minerals. The Continental Mineral Processing Corporation grew and four plants were established in Florida.
Frederick Hauck created a sizable personal fortune through his business dealings. With his business success, he turned to philanthropy, making large donations to educational institutions. His generosity earned him the nickname "Mr. Cincinnati."[4] Hauck donated to the University of Florida, Xavier University in Cincinnati, the Cincinnati Historical Society, and Rollins College among many others.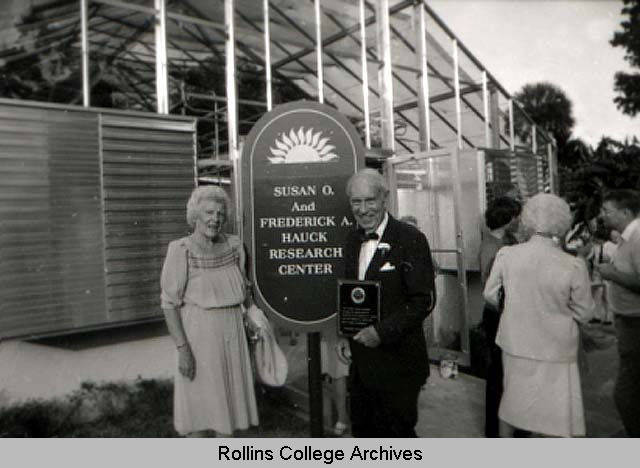 Hauck was a Winter Park resident for thirty years arriving in the 1940s. He built a home on Isle Sicily on Lake Maitland.[5] While in Winter Park he helped plan the bridge that connects the island to the mainland. He was also involved with Rollins through scientific research and financial contributions. He donated $10,000 to the Dubois Health Center for medical equipment, $2,150 towards Rollins' $100,000 Latin American Scholarship Endowment goal, Casa Iberia and a $25,000 endowment along with a parking lot and building named after him to the East of Casa Iberia. Hauck also gave a $100,000 grant that allowed for the establishment of a Botanical Research Center. In February 1975 he established an annual honor scholarship for a student majoring in chemistry. Hauck married Sue Bradley of Maitland after the death of his wife Carolyne on October 27, 1977. Hauck received an honorary degree of Doctor of Laws from Rollins College on May 22, 1983.
Hauck passed away in May 1997. His generosity and positive attitude permeated the many communities he was involved with. Winter Park was fortunate to have housed such a notable and kind personality.
- Kerem K. Rivera
---