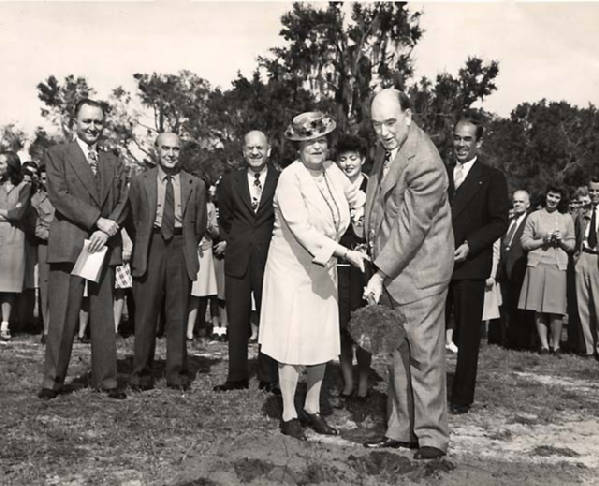 Frances Knowles Warren was born in 1872 in Worchester Massachusetts. Her father, Francis Bangs Knowles was the founder of the Knowles Company, a textile machinery manufacturer located in Worchester, Massachusetts. Later on, he and an acquaintance formed the Knowles & Crompton Company. The company became one of the largest manufacturers of textile machinery in the world.[1] Frances' mother, Hester A. (Greene) Knowles was the second wife of Francis Bangs Knowles and bore him three children including Frances.
Warren was educated in Worcester public schools and at the Dana Hall School in Wellesly. She married George C. Warren, the head of a coal company in Boston. Following the nuptials the Warrens moved to Boston where they lived comfortably on the well-known Beacon Street. Frances and George had no children. Perhaps because of this, she was heavily involved in the community as a member of the Trinity Church of Boston, president and director of the Boston YWCA and work with the Free Hospital for Women, Student's House, the Industrial School for Crippled Children, Trinity Home for the Aged and the Boston branch of the National Cathedral Association. She was also director of Knowles & Crompton. Her brother, Lucius James Knowles was president of the company from 1916 until his death in 1920. After George died, Warren moved to the Ritz-Carlton Hotel in Boston. She spent her summers in Manchester, Massachusetts and her winters in Winter Park, Florida.
Warren was acquainted with Rollins College since childhood. Her father was a founder, benefactor, and trustee. She carried on her family's involvement with Rollins. Warren donated a surfeit of money to the school. She left behind a trust fund valued at $1,516,314. She provided the funds for the construction of the Knowles Memorial Chapel, dedicated to her father, the Warren Administrative Building and the Student Center. Knowles Memorial Chapel took almost one year to build and cost $162,805. Mrs. Warren's financial assistance made the installation of air conditioning to the Warren administration building possible. She was interested in increasing the beauty and usefulness of buildings throughout the campus and in helping students, both in the North and South, attain higher education.[2]
On March 1, 1935 Warren was awarded a degree of Doctor of Humanities by President Hamilton Holt. She was also the recipient of the Algernon Sydney Sullivan Medallion in February 1943 and made an honorary member of the Order of the Libra, an honorary service society at Rollins.
Frances Knowles Warren passed away on October 25, 1953 in Boston, Massachusetts. She and her father were well known for being generous donors and friends to the students, faculty, and members of the Rollins and Winter Park community.
- Kerem K. Rivera