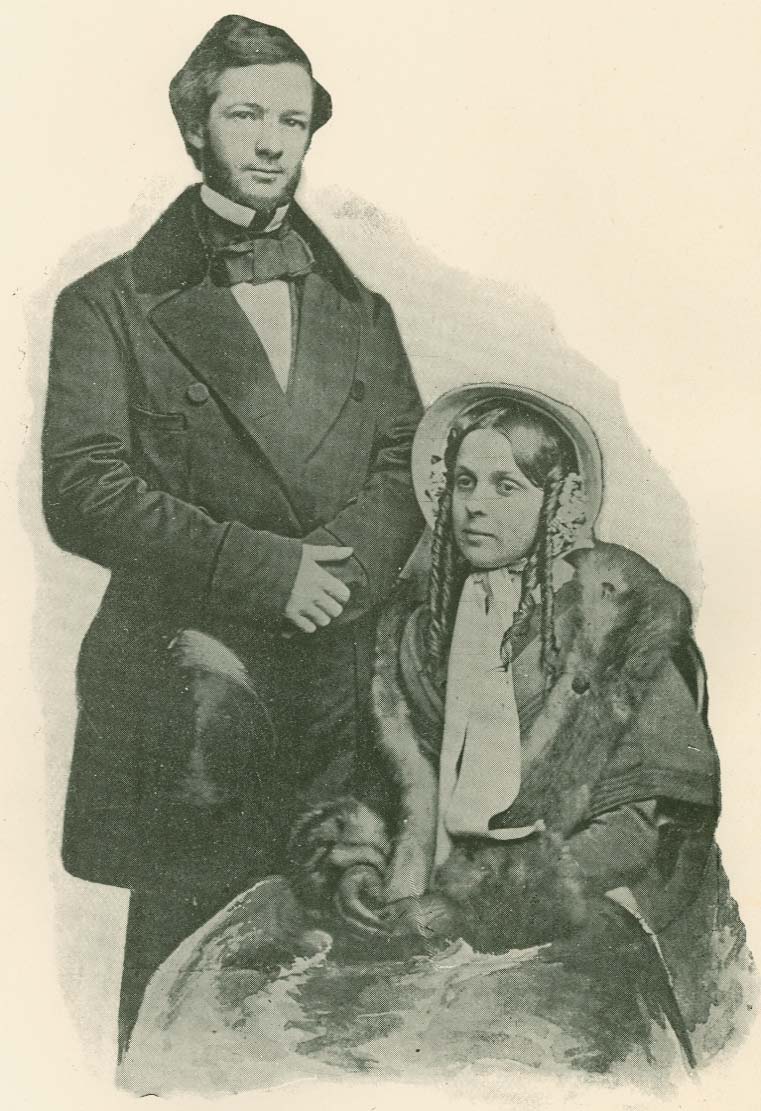 Franklin Fairbanks was born on June 18, 1828 to Erastus and Lois (Crossman) Fairbanks in St. Johnsbury, Vermont. Franklin's grandfather, Joseph Fairbanks, first moved to St. Johnsbury in 1815 and built a saw and grist mill. Joseph had three sons, Erastus, Thaddeus, and Joseph Jr. Together the brothers expanded Fairbanks' business by establishing a foundry and wheelwright shop, which produced stoves, plows, and agriculture implements.[1] Thaddeus noticed that there was a need for a new, more feasible method of weighing wagons loaded with raw materials. His ingenuity led him to create a scale, which was grappled by chains and suspended from a steelyard, and could lift a wagon and give an approximation of the weight.[2] Thaddeus was not completely satisfied with approximate estimates of weight and continued working to improve the scale. In 1830 he received a patent for his new and improved platform scale. The growing demand for platform scales led the brothers to establish the E&T Fairbanks & Company in 1834. The company was completely dedicated to the production of platform scales. Erastus led the company through several years of growth and decline, and in 1874 incorporated the company as the Fairbanks Scale Company.
In 1815, Erastus married Lois Crossman of Peacham, Vermont. They had nine children and Franklin Fairbanks was their sixth child. Franklin attended Peacham Academy in Peacham, Vermont as well as the Academy at Darien in New Hampshire. He finished his schooling at age eighteen and joined his father's factory business. After working for the company for nine years he became a partner in 1856. He remained a partner of the company for the next forty years. Franklin's brother died in 1888 and as a result he became president of the company. During his presidency he also served as an executive officer for several railway, telegraph, mining, manufacturing and banking corporations.
Along with his business, Franklin Fairbanks was heavily involved in church work.[3] He was a member of the International Sunday School Lesson Committee and Superintendent of the local Sunday school for thirty years. While in Vermont he also dedicated a museum of natural science and donated the Athenaeum in Undercliffe, Vermont. On December 8, 1852 Franklin married Frances A. Clapp in St. Johnsbury, Vermont. In 1881, Franklin and his friend and business associate, Charles J. Morse visited Winter Park, Florida. During his visit, Fairbanks purchased property located on Interlachen Avenue from Oliver Chapman and Loring Chase. He also became interested in the development of Rollins College. In 1885, Fairbanks donated $1000 to help locate Rollins in Winter Park. Shortly thereafter, he was appointed a trustee of the College and became a charter member of on April 28, 1885. He remained on the Board of Trustees for three years and was appointed as a member of the Building Committee. Fairbanks continued his financial contributions to Rollins and in 1888 was once again nominated a trustee. On May 29,1889 he was thanked by the Board for donating a (transit) to the college. On February 21, 1894 he offered his resignation but it was not accepted. He died on April 24th, 1895 in St. Johnsbury, Vermont.
- Kerem K. Rivera
---
[1] Trustee, Rollins College Archives, Franklin Fairbanks, 10 B.