Charles Hezekiah Ward was born on February 24, 1848 in Montpelier, Vermont. An eighth generation Englishman, he was educated in the Montpelier public school system and spent most of his youth on the family farm. As a young man, Ward spent six years in the mercantile business in Northfield, Vermont. He dabbled in several occupations prior to becoming involved in a partnership with a general store.[1] He married Emma Ruth Chubb, a school teacher at the age of 24 on June 12, 1872. They had three sons, Charles Frederick, Harold Anson, and Raymond Ward.
Ward and his family moved to Orange Park, Florida in 1879 due to his wife's poor health. He entered the citrus industry but was unsuccessful. He was postmaster for seven years. After resigning, he and his family moved to Central Florida. Ward arrived in Winter Park in 1886 and leased 100 acres in the village of Osceola on the eastern shore of Lake Mizell. He also rented the Spier House located at Lake Mizzell.
Ward made a second attempt to succeed in the citrus business, but the Big Freeze of 1894 proved to be detrimental.[2] Consequently, Ward cancelled his lease and bought ten acres of grove on Lake Sylvan. He built a home on his property, sought out new opportunities in business. All the while, Emma's health improved drastically. Around the same time, Ward and his son Harold bought groves in the Winter Park area, restored them and resold them for profit. He also entered the truck-farming business and shipped fresh vegetables throughout the state of Florida.[3]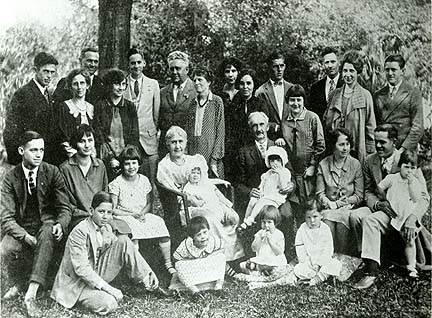 Ward was an active member of the Winter Park community. He was involved with the First Congregational Church providing flowers and grapes from his garden and serving as a Sunday school teacher. Ward was also interested in the beautification of the town. He helped establish a fresh water pumping system that helped with grove irrigation and the general water supply to the community. Ward also served on the first town council for Winter Park.

Ward's son, Charles Frederick took over the truck farming business and was also involved in poultry and dairy operations. Later, he went into politics and was elected mayor and city manager of Winter Parks for four consecutive terms. Harold Anson Ward took over his father's general store in Winter Park. He became part of management in the Winter Park Land Company with Charles Morse. Raymond Ward went into carpentry, was proficient in music and built airplanes during World War I.

Ward died in 1930 and his wife died in 1945. They are both buried in Palm Cemetery. He was survived by three sons, fourteen grandchildren and eight great-grandchildren. Ward's active approach in promoting positive change in the

Courtesy of Winter Park Library


community through projects, such as the fresh water system, and involvement in city council were paramount to the successful development of Winter Park.

Kerem K. Rivera