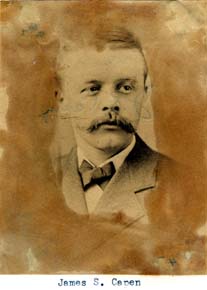 Courtesy of the Winter Park Library Archives
James Seymour Capen (1852-1931)
Early Settler, Businessman & Donor
James Seymour Capen was born in Union Springs, Cayuga County, New York on October 18, 1852 to Luman Whitcomb and Eliza Munger Capen. The Capen family came to America from England around 1630. They settled in Dorchester, an area that is now part of Boston. Capen was educated in the Bloomington, Illinois public schools. He attended the State Normal University in Bloomington, Illinois from 1865-1870.
From 1870 to 1873 Capen worked as a clerk and bookkeeper. From 1873 to 1884 he traveled throughout Illinois, Western Indiana, and Eastern Missouri as a representative of a wholesale china and glass company. Capen visited Winter Park, Florida at the suggestion of his long-time friend Loring Augustus Chase. He arrived in Winter Park in March of 1884 and toured the town. Afterwards, he went back to Illinois, closed his business and returned to Winter Park in July of 1884. Upon arrival, Capen purchased 80 acres and several mules and quickly built a house. [1] The house was located on the northwest corner of Morse Boulevard and Pennsylvania Avenue. Capen also organized and ran an orange grove business under the name of Capen & Co. His company cared for groves, negotiated fire insurance, cleared and fenced land, and dealt in real estate.[2] He also assisted Loring. A. Chase, founder of the town, in his office in July of 1884.
In 1885 he donated land valued at $510 to the fund that brought Rollins College to Winter Park. He soon became secretary of the Winter Park Land Company and a notary public. Capen maintained records of the history of growth Winter Park and Rollins College during his term as secretary of the Winter Park Land Company. He worked for the company until the "big freeze" that devastated the citrus industry in 1894. He returned to the north in 1895 and was employed for fifteen years by Capt. Gilbert Hart in Detroit, Michigan. He then managed his own mercantile business until August of 1925. He returned to Winter Park later that year. James Seymour Capen died on August 5, 1931. He was survived by his wife, Mrs. J.S. Capen who passed away February 8, 1960, and his Daughter Louise Capen.
James Seymour Capen's greatest contributions to the Winter Park community were his dedication as secretary of the Winter Park Company, member of Town Council in 1887 and his donation of land valued at $510 toward the $114,180 fund that aided in bringing Rollins College to Winter Park. He is remembered for being deeply interested in Winter Park's development and public affairs.[3]
- Kerem K. Rivera