John Stoner Ross, born on September 28, 1925, originated in Ames, Iowa. He received preparatory education from Greencastle High School in Indiana, after which he enrolled in DePauw University where he received his Bachelor of Arts degree in 1947. Ross then conducted graduate studies at the University of Wisconsin, receiving his Masters of Science in 1948 and his Doctorate in 1952. His fields of study included physics, mathematics, and astronomy, with dissertation research pertaining to atomic optical spectroscopy. In 1948, Ross married Ann Cox, with whom he had eight children: Catharine (born 1951), David (born 1952), Martin (born 1954), Barbara (born 1956), Gregory (born 1962), Stephen, Kevin, and Eric. Even before completing his graduate studies, Ross found employment as a graduate assistant and a research physicist at the ANSCO Photographic Research Laborat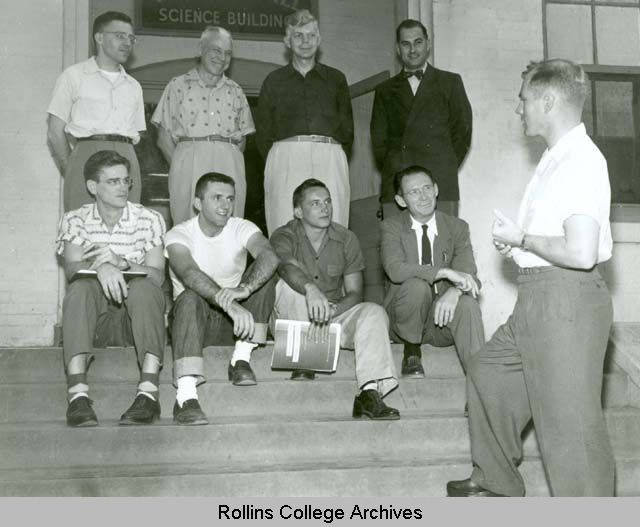 ory in Binghampton, New York. Ross also served as a consultant for the Radio Corporation of America (R.C.A.) Optics Engineering Group at an Air Force Missile Test Range, and at the Research Division of Radiation Incorporated.
In 1953, Hugh McKean invited Ross to teach at Rollins College in Winter Park, Florida. His teaching fields included astronomy, general physics, introduction to computers, quantum physics, and advanced laboratory. His research interests included high-resolution atomic spectromoscopy and self-paced course development for science majors. Ross participated in the 1975 summer Post-Keller College Workshop at Michigan State University for the preparation of instructional models for a physics course based on calculus. The Rollins College Research Fund provided some of the grants he needed to conduct his studies. In 1963 he became the Director Master of Science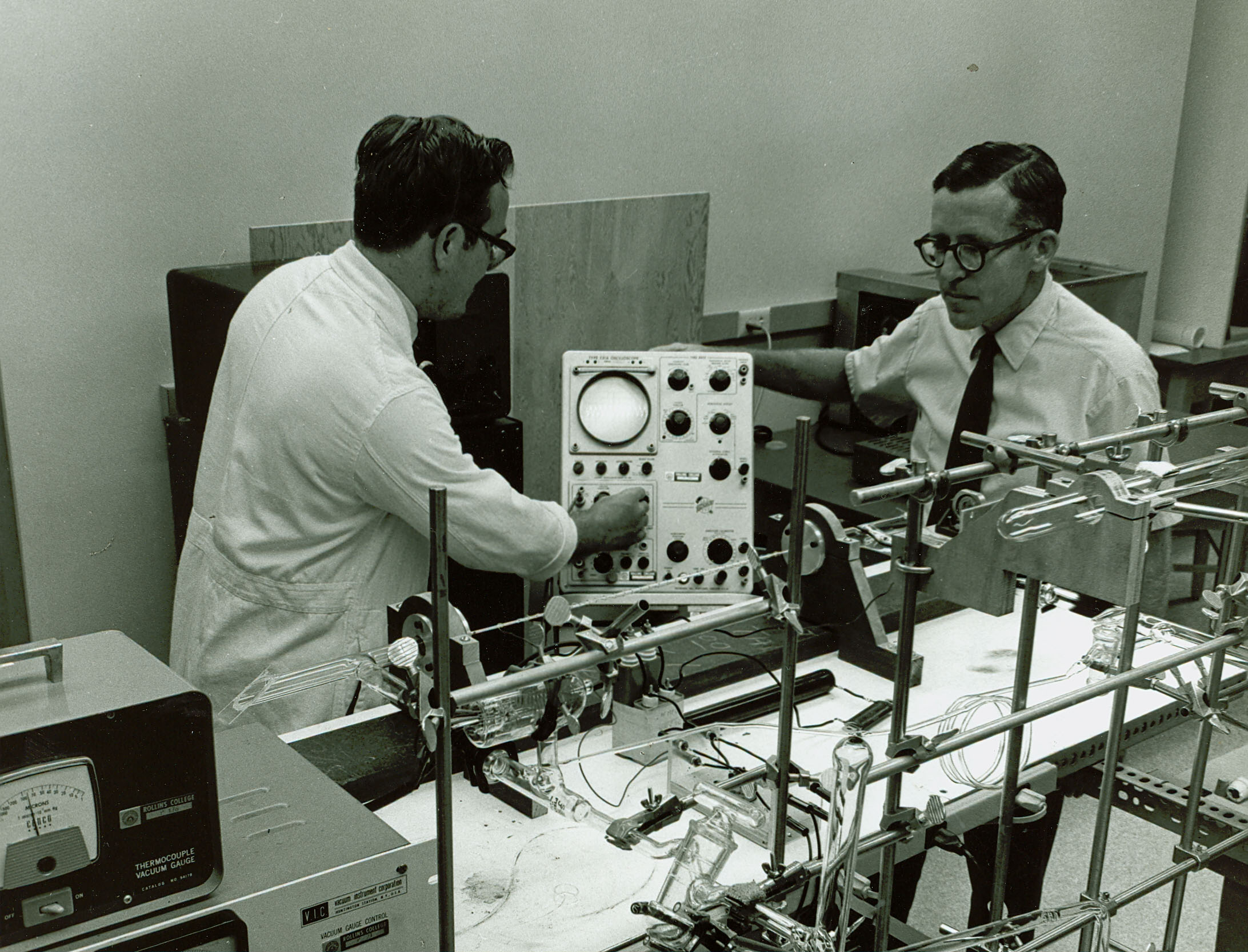 Program. Ross also served as head of physics department from 1965 until his retirement in 1993. To honor him for his service to the College, students celebrated his career with a party, and Rollins later named a classroom in the Bush Science Center after him. Students and faculty described him as having a shy, but contentious personality; his wife termed him a traditional Catholic.
In addition to teaching, Ross also published numerous papers and presented extensively. He wrote ten industrial and government reports and twelve articles on topics such as hyperfine structure and atomic isotope shifts in The Physical Review and the Journal of the Optical Society of America. His work won him various awards and honors, such as the Arthur Vining Davis Fellowship (1972), Archibald Granville Bush Professor of Science (1977 through 1980) and, along with Professor Edward Cohen, the first McKean Grant to support research in Oxford on Edmond Halley (1983). He also joined several academic and community organizations. He held memberships to the Optical Society of America, Southeastern Section of the American Physical Society, American Association of Physics Teachers, Federation of American Scientists, American Association for the Advancement of Science, Florida Academy of Sciences (as treasurer), American Association of University Professors, President of Central Florida Community Orchestra, Phi Beta Kappa, Sigma Nu, Omicron Delta Kappa. He even coached the Winter Park Soccer Club and received a position from the Boy Scouts of America Wekiwa District designating him as the chairman of the Eagle Board of Review. Ross died in 2003 at age seventy-seven from heart complications.
- Angelica Garcia