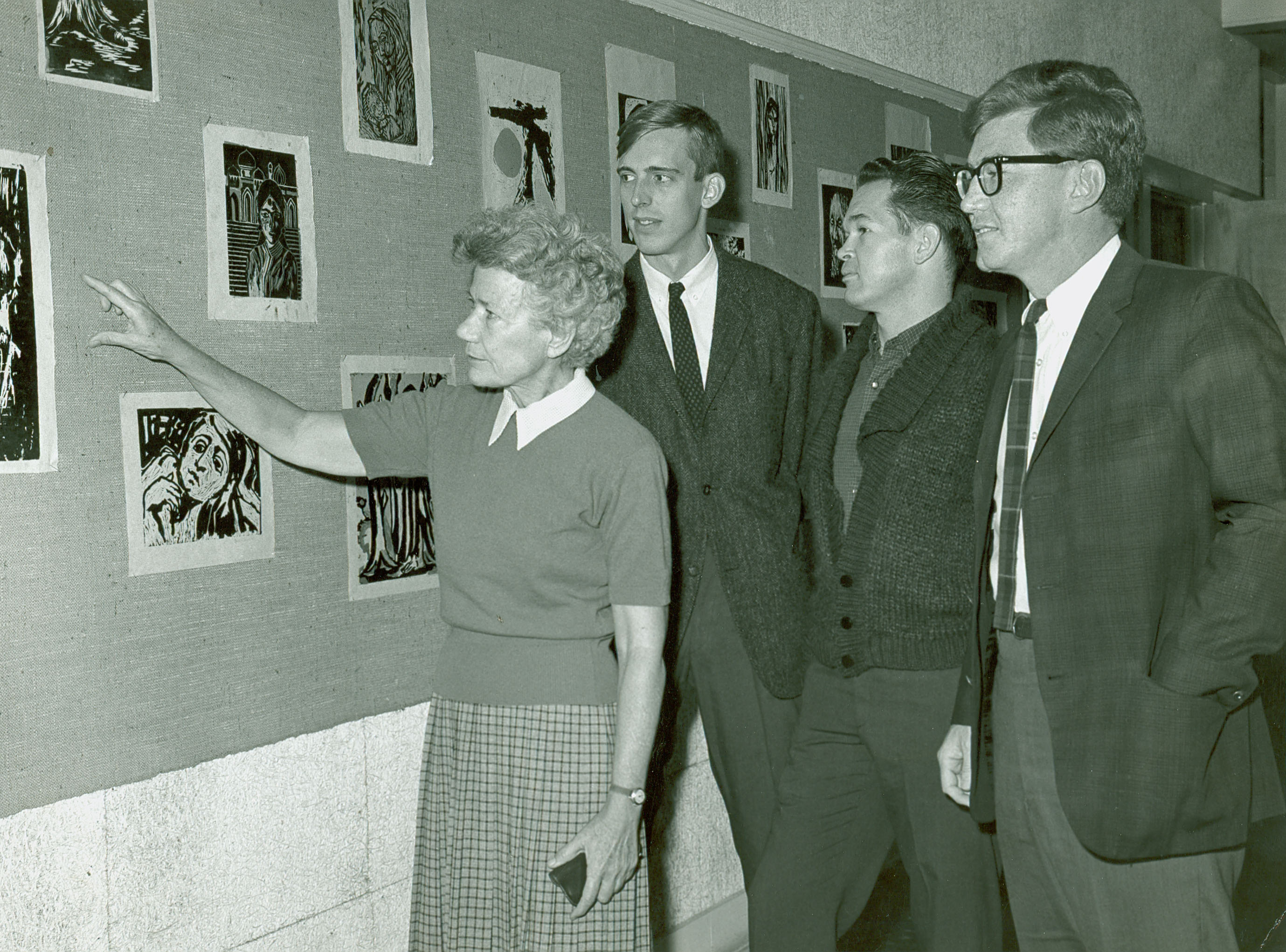 Born to the lithographer, Rudolph Joseph, and his wife, Mildred (Cerny) Ortmayer, on July 19, 1902, Constance Ortmayer originated in New York City. She received her preparatory education from New York High School from 1914 to 1916. The Bryn Mawr summer school, which chose young women from shops and factories, provided her the opportunity to showcase her talent for art. From there she studied sculpture in New York and, in 1927, attend the Royal Academy of Fine Arts of Vienna, Austria. From 1930 until 1932, she went to the Academy's Master School of Arts, where she later taught. She received the equivalent of a master of fine arts degree. Upon graduation, Ortmayer visited the great European artistic centers in Austria, Germany, France, Belgium, Italy, England, Norway, Sweden, and Denmark. She became the technical advisor for sculpture in Section of Fine Arts in Washington, D.C. before joining the

faculty of Rollins College in Winter Park, Florida. Beginning in 1937, Ortmayer served as an instructor in sculpture at Rollins for five years. In addition to her duties as a teacher at Rollins, she also made artistic contributions to the school, such as designing the base of the Peace Monument of 1938. Ortmayer worked as an assistant professor from 1941 until 1944 and then as an associate professor from 1944 to 1947. After 1947, Ortmayer functioned as a professor of sculpture until 1968, when she retired in order to devote more time to sculpting and caring for her aged mother.
"The Spirit of the Theatre"
Ortmayer's achievements in regards to her artistic pursuits proved numerous. She exhibited in Vienna, New York, Philadelphia, and Florida cities including Daytona, Jacksonville, Orlando, Winter Haven, Palm Beach, Miami, and Winter Park (at the Moose Gallery of Art and Center Street Gallery). She designed and executed two bas-relief sculptures for governmental offices: Arcadia for the United States Post Office in Arcadia, Florida, and Alabama Agriculture for the Post Office in Scottsboro, Alabama. She created one sculpture, "The Spirit of the Theatre," for the Anne Russell Theatre at Rollins. Ortmayer also designed the Cincinnati Memorial Coin, the Stephen Foster Half Dollar (issued 1936), which earned her permanent representation from the American Numismatic Society in New York. Upon her commission, the Treasury Department had to approve her models, with Congress passing a special bill for minting a limited number, (15,000), of the coins. Additionally, she created a medal for the Florida Academy of Sciences and numerous awards for Rollins, such as the Hamilton Holt, William Fremont Blackman, George Morgan Ward, Roy E. Crummer, and Jubilee medals. Ortmayer received her own recognitions as well, including the Anna Hyatt Huntington Prize for Aprilis, the Henry O. Avery Architectural Prize for The Bather, and an Award of Merit for best work in any medium from the Florida Federation of Art. In 1947, Rollins bestowed upon her the Rollins Decoration of Honor. She also joined various artistic organizations, such as the National Sculpture Society, Florida Artist Group, Florida Federation of Art, and the Orlando Ceramic Society as an honorary member. Ortmayer died on May 15, 1988.
- Angelica Garcia