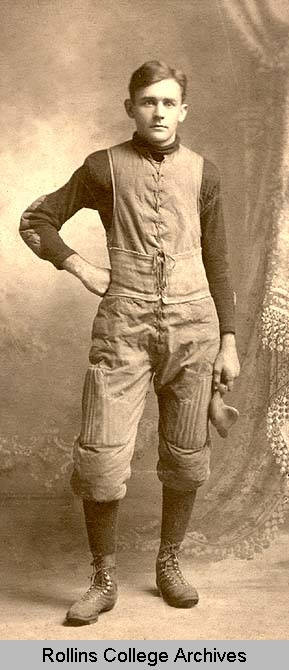 James Homer and Susan Cart (McCarter) Enyart had a son, Arthur, in Dayton, Ohio on May 5, 1882. Arthur Enyart received his Artium Baccalaureatus and his Artium Magister degrees from Ohio Wesleyan University in 1906, where he also played college football. After graduation, he functioned as an assistant pastor at the Trinity M.E. Church in Portsmouth, Ohio, and as an instructor at the East Greenwich Academy (Rhode Island). In 1910, Enyart earned a Sacrae Theologiae Baccalaureus from Boston University. Additionally, he held two honorary degrees: a Doctorate of Letters from Rollins College in 1914, and Doctor of Laws degree from Boston University in 1957. Enyart conducted graduate studies at Brown and Harvard Universities. Additionally, he had memberships to the University Club of Winter Park, Omicron Delta Kappa, Pi Gamma Mu, Sigma Chi Omega, Phi Kappa Psi, the Freemasons, and an honorary membership to the Winter Park Rotary Club.
Enyart became the Dean of Men at Rollins in 1912, after President William Blackman requested a "disciplinarian." Instead of following the rules elucidated in the College's syllabus of behavioral guidelines, Enyart tore up his copy in favor of a policy of self-discipline. "Discipline is no good whatsoever unless it is self-imposed."[1] He also served as co-acting president of Rollins with William R. O'Neal from 1916 through 1917. Assuming the role of professor, Enyart also taught English (1912 to 1917), Philosophy (1912 to 1914, 1915 to 1917), and the Bible (1915 to 1916). In 1917, Enyart went on a hiatus from Rollins to work for nearly two years in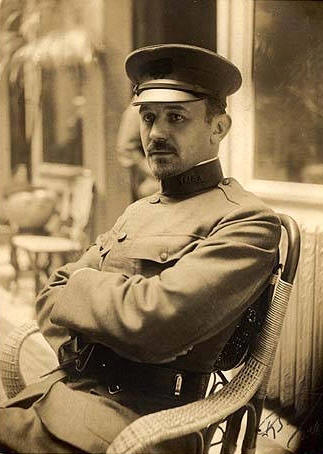 France and with the Graves Record Department in the United States. Preceding the army abroad, he headed the Young Men's Christian Association's (Y.M.C.A.) arrangements and purchasing. Enyart then became the Dean of Burdette College (Boston, Massachusetts) in 1919, remaining until 1929. Returning to Rollins in 1930, Enyart reassumed his position as dean and held widespread popularity amongst the faculty and student body.
Best known for his nontraditional methods regarding discipline, immaculate dress, predilection for reckless driving, and annual holiday readings of Charles Dickens' A Christmas Carol (1843), Enyart received the affectionate title "Mr. Rollins." Numerous instances of his informal relationship with the students, such as dousing prankster students with a fire hose after stealing a bell from an abandoned turpentine mill and ringing it on top of Knowles Hall, or sneaking pupils out on a Sunday to go boating at Wekiwa Springs (despite compulsory church attendance), made him an especially beloved figure. His commitment to the school earned him a Rollins Declaration of Honor in 1939 and the Algernon Sydney Sullivan Medallion (1953). Aside from his position as dean, professor, chair of economics and business administration, director of chapel activities, and serving as consultant to the administration (1955), Enyart also valued highly the athletic departments. He received the O.O.O.O. (Omnipotent Order of Osceola) trophy from Rollins in 1950 (the first faculty member to do so), in recognition of his sportsmanlike spirit. For example, when describing a recollection about Rollins' football games he stated: "Many, many a thing is lost or gained by the spirit you put into it."[2] Thus, in 1968 the College commemorated his contributions by dedicating the Enyart-Alumni Field House to him. Enyart died on June 9, 1961.
-Angelica Garcia